Herbivore Botanicals Moon Fruit Super Night Treatment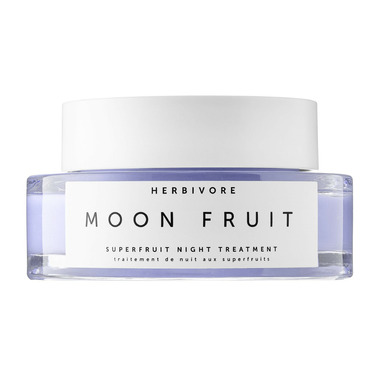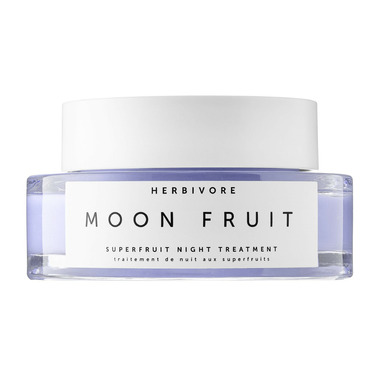 Herbivore Botanicals Moon Fruit Super Night Treatment
The Herbivore Botanicals Moon Fruit Super Night Treatment is an other worldly multi-tasking night treatment that feeds skin with superfruits, gently resurfaces with fruit enzymes and hydrates deeply with a blend of exotic butters and bio-identical vegan Hyaluronic Acid all while you sleep.
Features
:
Superfruits - Powerful anti-oxidant rich fruits including Prickly Pear, Goji Berry and Red Raspberry Seed feed skin important nutrients and repair oxidative stress from daytime sun exposure and pollution to remedy signs of aging while you sleep.
Kokum and Shea Butters: Creamy and deeply hydrating, these exotic butters are natural humectants that draw and lock moisture into your skin.
Fruit Enzymes and AHA's - Papaya, Lemon, Sugar Cane, Orange, Bilberry, Cranberry and Maple enzymes gently resurface and regenerate leaving your skin exfoliated, smooth and glowing. Resurfacing and excellent for unclogging pores for blemish prone skin types. Softening and smoothing for all skin types.
Hyaluronic Acid - Bio-identical and vegan. It is deeply hydrating and improves skin's elasticity. It is also a humectant that draws and holds water in the skin for maximum hydration.
Aloe Juice - Soothing and calming to the skin Aloe also naturally contains salicylic acid making it excellent for clearing and reducing irritation in blemish prone skin.
Directions
: Before going to sleep, apply a small amount to cleansed and dried skin. Massage in well so that Moon Fruit's natural butters absorb completely into the skin. Layer one of the Herbivore facial oils on top of Moon Fruit for superior hydration and results. For oily/blemish prone skin try
Lapis Oil
. For Dry skin try
Phoenix Oil
. For balanced skin try
Orchid Oil
Note
: Moon Fruit is not a mask and not meant to sit on the surface of skin, be sure to massage it in completely so it can work its magic while you sleep. If its not massaging in all the way please remove excess product as you have likely applied too much. Can also be used during the day. For day time use, avoid direct sunlight and use a high SPF (over 30) to protect skin from increased photo-sensitivity caused by natural enzymes and AHA's present in Moon Fruit.
Ingredients
: Organic Aloe Leaf Juice (Aloe Barbadensis), Red Raspberry Seed Oil (Rubus Idaeus), Organic Prickly Pear Oil (Opuntia Ficus-lndica), Kokum Butter (Garcinia Indica), Organic Shea Butter (Butyrospermum Parkii), Cetearyl Glucoside, Cetearyl Alcohol, Organic Alcohol, Glyceryl Stearate, Organic Rosehip Seed Oil (Rosa Canina), Hyaluronic Acid, Organic Lavender Flower Essential Oil (Lavandula Angustifolia), Organic Bilberry Fruit Extract (Vaccinium Myrtillus), Organic Sugar Cane Extract (Saccharum Officinarum), Organic Sugar Maple Extract (Acer Saccharinum), Organic Orange Peel Extract (Citrus Sinensis), Organic Lemon Peel Extract (Citrus Limon), Organic Cranberry Fruit Extract (Vaccinium Macrocarpon), Organic Papaya Fruit Extract (Carica Papaya), Organic Goji Berry Extract (Lycium Barbarum), Xanthan Gum, Indigo Powder (Baphicacanthus Cusia [Nees] Bremek), Ultramarine Blue, Manganese Violet


Truly Natural. Everything Herbivore creates contains the finest all-natural ingredients, with an emphasis on ingredients that are plant-based, organic, and food-grade. Each ingredient is included for a therapeutic reason. No animal testing is conducted on their products or ingredients. All of their oils are cold-pressed or steam distilled. These are the best extraction methods available and lead to premium quality oils. All products are made in small batches in the USA.