Holista Restorativ Tea Tree & Vitamin E Moisturizing Cream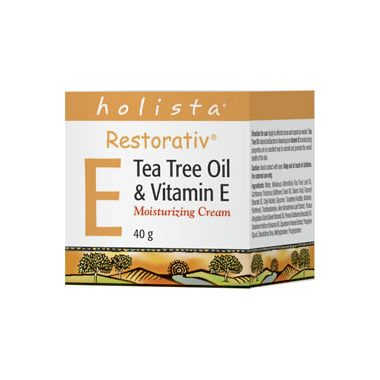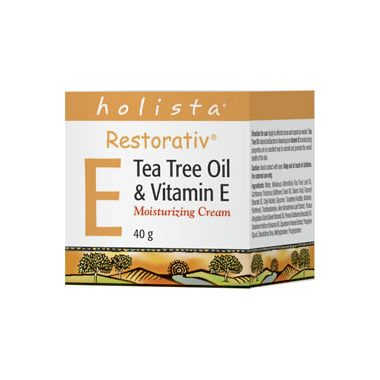 Holista Restorativ Tea Tree & Vitamin E Moisturizing Cream
Tea Tree Oil has a long history of medicinal properties. It possesses antibacterial, antiseptic and antifungal properties yet it is non-drying and, for most people, non-irritating. Vitamin E's skin cell-enriching, skin rejuvenating and repairing properties, help to moisturize, heal and treat a variety of skin conditions.
Holista Restorativ Tea Tree & Vitamin E Cream can be helpful in wound healing and preventing wound infection, as a natural antibacterial, antiseptic and antifungal. It may decrease the development of ingrown hairs after shaving or waxing and helps to reduce acne of the face and body. It can also assist the healing process of chicken pox sores and insect bites.

Suggested Usage:
Relieves minor skin irritations, sunburn, dry skin, dermatitis and acne.
Ingredients:
Medicinal ingredients:
Tea tree oil (5%) and vitamin E 3000IU.
Non-medicinal ingredients:
Purified water, safflower oil, cetyl alcohol, glyceryl stearate, stearic acid, glycerin, allantoin, panthenol, triethanolamine, propylene glycol, aloe vera powder, almond oil, avocado oil, sesame seed oil, horsetail extract (herb), diazolidinyl urea, methylparaben and propylparaben.
CAUTIONS / WARNINGS:
For external use only
Avoid the topical and internal use of tea tree oil for cats and dogs, as they appear to poorly tolerate tea tree oil which may lead to serious toxicity