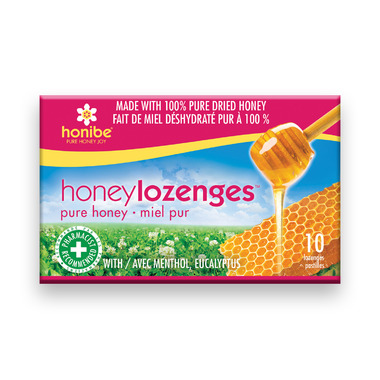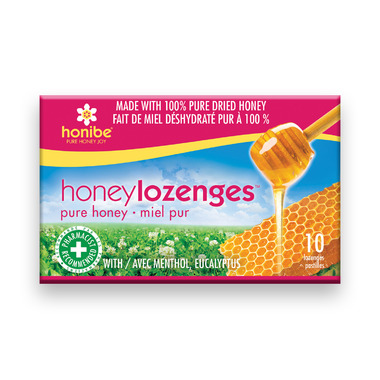 These Honibe Honey Lozenges are made from 100% pure honey. With Menthol and Eucalyptus, these lozenges are ideal for the temporary relief of sore throats and nasal congestion.

Dosage: Adults & Children 5 Years & Over: Dissolve one lozenge slowly in the mouth as required. If symptoms are severe or persist for more than 2 days, consult a doctor. Keep out of reach of children. Store in a cool, dry place.

Ingredients: Medicinal Ingredients: Menthol (8.6mg:0.34%), Eucalyptus (6mg:0.24%) Non Medicinal Ingredients: Dried Honey (99.5%), Corn Maltodextrin (Gluten Free Dusting, 0.01%)

Sherri:
more than a year ago
I was disappointed when I received these and discovered they are not 100% pure honey, but also contain menthol and eucalyptus. They are present in very minute amounts, but I really don't like the taste - plus the menthol is irritating. If I had realized this, I wouldn't have ordered them, but there is no mention of these ingredients listed and the presence of "Medicinal Ingredients" should have been noted above. If someone doesn't mind menthol or eucalyptus, they are a good, natural alternative to mass market cough drops, but unfortunately not for me.
Laura:
more than a year ago
I recently tried this product to help sooth my cough and sore throat and I absolutely loved it!! It's an amazing product and it made with 99.9% honey! It has a longer lasting affect than traditional Halls does because the honey coats your throat! Loved it and highly recommend it to people looking for a more natural method to sooth a sore throat.
Page
1