If You Care Non-Stick Parchement Roasting Bag XL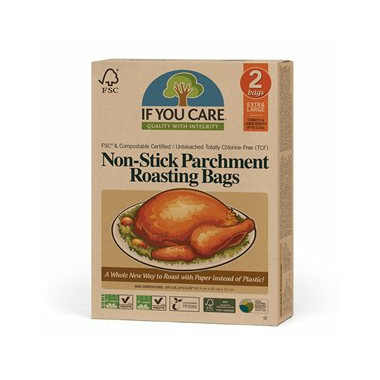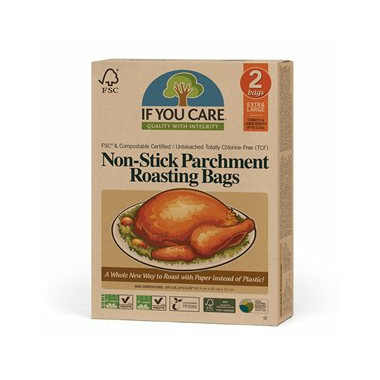 If You Care Non-Stick Parchement Roasting Bag XL
Unique and innovative, If You Care Parchment Roasting Bags create a brand new way to roast perfect Holiday turkeys, hams, chicken, fish and more with unbleached totally chlorine-free grease-proof paper roasting bags (No more plastic that ends up in landfill!).

If You Care parchment roasting bags seal in the juices to create delicious, tender, and moist meat that literally falls off the bone. There is no other non-stick parchment roasting bag on the market.

If You Care Parchment Roasting Bags are available in two sizes: Extra Large for Holiday turkeys, hams and large roasts, and Medium for chicken, fish, medium roasts, vegetables and more.

Features:
XL Size ideal for holiday turkeys, hams, and large roasts
Seals in juices
Totally chlorine-free and grease-free parchment paper
Non-Stick

Tips & Advice: The bottom seam is designed to let steam out of the roasting bag during cooking and is not leak proof, so it is best not to fill the bag with too much liquid. For best results, place foods in center of bag and avoid over-filling.

After cooking, make a delicious gravy by simply adding liquid and cornstarch to the juices at the bottom of the bag. Easily prepare a one-pot meal by roasting vegetables, such as onions, potatoes or carrots, with meats.
Warning: Before cooking, do not lift roasting bag filled with ingredients as the bag can break. After cooking, use extreme caution when opening bag as the steam will be very hot.
Material: unbleached totally chlorine-free, grease-proof paper