90 Enteric-Coated Caplets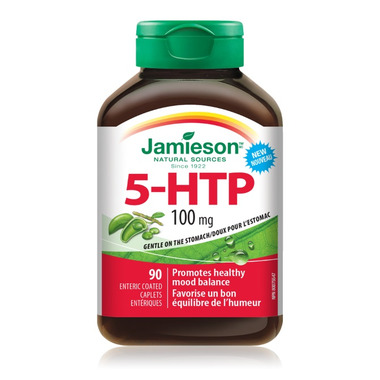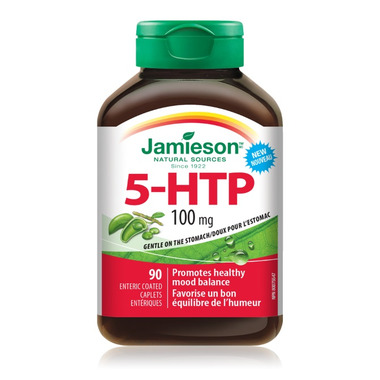 Jamieson 5-HTP
90 Enteric-Coated Caplets
5-HTP (5-Hydroxytryptophan) is a chemical by-product of the protein building block L-tryptophan. It is sourced from the seeds of an African plant known as Griffonia simplicifolia. 5-HTP increases serotonin levels and helps with depression, anxiety, insomnia, migraine and tension-type headaches, fibromyalgia, and obesity.
Features:
Helps to support healthy mood balance
Helps to relieve symptoms of fibromyalgia
Helps to reduce the severity and duration of migraine hseadaches
Directions:
Take 1-3 caplets daily.
Ingredients:
5-HTP (Griffonia simplicifolia, seed) 100mg
Caution:
Consult a health care practitioner if symptoms persist or worsen.
Consult a health care practitioner prior to use: if you are pregnant or breastfeeding; if you are taking carbidopa or drugs/supplements with serotonergic activity (including, but not limited to, L-tryptophan, S-adenosylmethionine (SAMe), St. John's wort, antidepressants, pain killers, over the counter cough and cold medication containing dextromethorphan, anti-nausea medication and anti-migraine medication. Some people may experience diarrhea, nausea, vomiting, abdominal pain, and drowsiness. Discontinue use and consult a health care practitioner if you show signs of weakness, oral ulcers, or abdominal pain accompanied by severe muscle pain. Exercise caution if operating heavy machinery, driving a motor vehicle or involved in activities requiring mental alertness. Do not use if you have scleroderma.
Cellulose, dicalcium phosphate, water-soluble cellulose, vegetable magnesium stearate, silica, modified cellulose gum, ethyl cellulose, ammonium hydroxide, sodium alginate, medium chain triglycerides, oleic acid, vegetable stearic acid.