Jamieson Arthrimin Glucosamine & Chondroitin
Effervescent Drink Crystals
10 x 21 g packets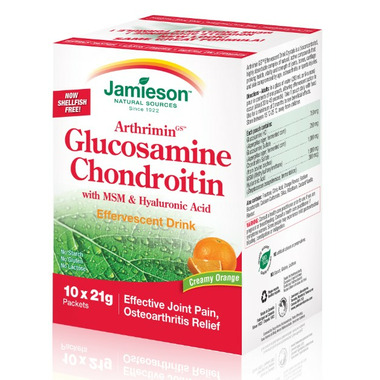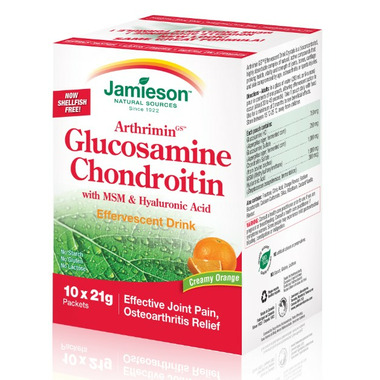 Jamieson Arthrimin Glucosamine & Chondroitin
Effervescent Drink Crystals
10 x 21 g packets
This effervescent drink prolongs health and strength of joints, bones and cartilage that have been compromised by age, arthritic conditions or sports injuries.

Benefits:
Relieves joint pain and osteoarthritis symptoms
Supports vital joint and bone health and pain-free movement of hands, wrists, hips, ankles, knees, neck and back
Factor in the building of healthy cartilage, protecting against the deterioration of cartilage
Ingredients per 21 g packet:
Glucosamine Hydrochloride(HCl) 750mg(Aspergillus niger fermented corn)
Glucosamine Sulfate (2KCl) 750 mg (Aspergillus niger fermented corn)
Chondroitin Sulfate 1000 mg (from bovine trachea)
MSM (Methylsulfonylmethane) 1000 mg
Hyaluronic Acid 300 mcg (Streptococcus zooepidemicus, fermentation)
Excipients: Fructose, Citric Acid, Orange Flavour, Sodium Bicarbonate, Calcium Carbonate, Silica, Riboflavin, Custard Vanilla Flavour.

Adults: In a glass of water (200 mL or 6 ounces) pour in contents of one pouch, allowing effervescent action to occur (about 30-45 seconds). Take 1 pouch daily with food. Use for a minimum of 3 months to see beneficial effects. Store between 15ºC-25ºC, away from children.