Jamieson Men's Adult Multivitamin 50+ Value Pack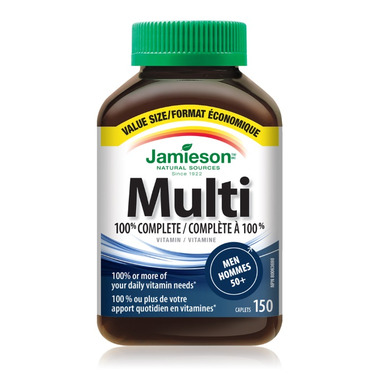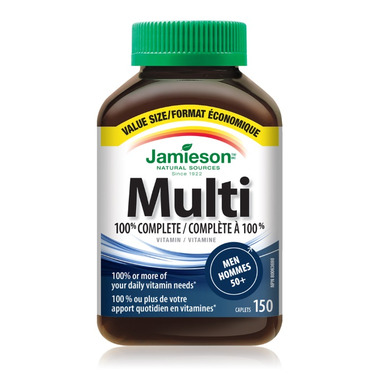 Jamieson Men's Adult Multivitamin 50+ Value Pack
Jamieson 100% Complete Multivitamin for Men 50+ is the easy way to get 100% of your body's daily vitamin needs. Formulated to Health Canada's recommendation, Jamieson 100% Complete Multivitamin for Men 50+ also includes lutein for vision support, so you can feel confident you are getting 100% or more of the vitamins your body needs each day.
Features:
100% of the daily required vitamin allowance for Men 50+, as recommended by Health Canada
Naturally energizing
Immune defense
Source of antioxidants
Suggested Use:
Take 1 caplet daily with a meal.
Ingredients:
Vitamins: Vitamin A (Acetate) 300 mcg RAE 133%, Beta-carotene 1800 mcg, Vitamin B1 (Thiamine mononitrate) 4.2 mg 350%, Vitamin B2 (Riboflavin) 4.6 mg 354%, Vitamin B3 (Niacinamide) 16 mg 100%, Vitamin B5 (Calcium d-pantothenate) 12.5 mg 250%, Vitamin B6 (Pyridoxine HCl) 8.5 mg 500%, Vitamin B12 (Cyanocobalamin) 12 mcg 500%, Vitamin C (Ascorbic acid) 180 mg 200%, Vitamin D3 (Cholecalciferol) 20 mcg/800 IU 133%, Vitamin E (d-alpha tocopheryl acetate) 22.5 mg AT/33 6 IU 150%, Vitamin K1 (Phytonadione) 120 mcg 100%, Biotin 54 mcg 180%, Folate (Folic acid) 400 mcg 100%
Minerals: Calcium (Carbonate, dicalcium phosphate) 200 mg, Chromium (Chloride) 100 mcg, Copper (Sulfate) 500 mcg, Iodine (Potassium iodide) 150 mcg, Iron (Ferrous fumarate) 2 mg, Magnesium (Oxide) 125 mg, Manganese (Sulfate) 3 mg, Molybdenum (Sodium molybdate) 50 mcg, Selenium (Sodium selenite) 65 mcg, Zinc (Oxide) 11 mg
Supporting Nutrients: Siberian ginseng (45:1) extract (Eleutherococcus senticosus, root) 6 mg, Equivalent to 270 mg DHE, Lutein (Tagetes erecta L, flower) 600 mcg, Lycopene 300 mcg.
Cellulose, water-soluble cellulose, modified cellulose gum, vegetable stearic acid, vegetable magnesium stearate, silica, hydroxypropyl cellulose, natural colour (Spirulina platensis extract), titanium dioxide.
NO salt (NaCl), gluten, lactose or artificial flavours.
Caution:
Consult a health care practitioner prior to use if you are taking blood thinners.