Jamieson Multi 100% Complete Vitamin Drink Mix
Raspberry Lemonade
30 Sticks

Jamieson Multi 100% Complete Vitamin Drink Mix contains 100% or more of your daily required vitamins in 1 powder stick! The multivitamin is formulated in accordance with Health Canada's Recommended Dietary Allowance (RDA) guidelines for daily nutrient and vitamin intake.
Directions – Adults:
Take 1 stick (7 g) daily with a meal. Dissolve in 495 mL of water. Take a few hours before or after taking other medications. Store
between 15°C and 25°C, away from children.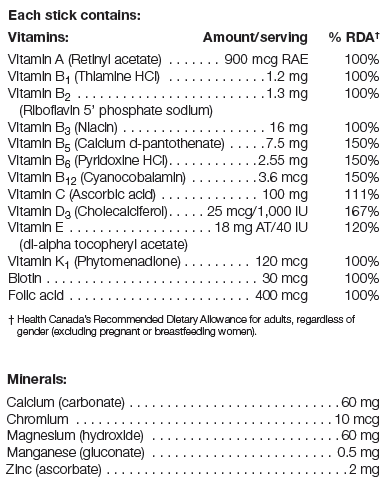 Also contains:
Sodium bicarbonate, potassium carbonate, organic cane sugar, citric acid, natural flavours (raspberry, lemonade), malic acid, vegetable juice, stevia leaf extract.
WARNING:
Consult a health care practitioner prior to use if you are taking blood thinners. People sensitive to nicotinic acid may experience flushing of skin that is generally mild and transient.
NO gluten, artificial colours, flavours, sweeteners or preservatives.
Similar Jamieson Products