Jamieson
Jamieson Probiotic with 10 Billion Active Cells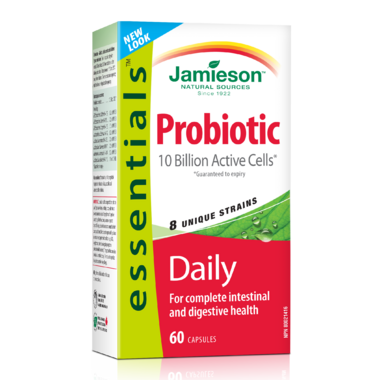 Jamieson
Jamieson Probiotic with 10 Billion Active Cells
Description
Jamieson Probiotic —10 Billion Active Cells balances intestinal microflora and is used for overall digestive and immune health, the two main benefits that come from healthy bacteria in the gut. In addition, this probiotic can be safely taken by children.
Each easy-to-swallow capsule is formulated to contain a minimum of 10 billion cells guaranteed until time of expiry, provided by
Lactobacillus
and
Bifidobacterium
bacteria strains. It is ideal for anyone with gastrointestinal symptoms, such as bloating and it leads to proper digestion and regularity.
Benefits:
Balances intestinal flora for the maintenance of good health.
Probiotics that form part of/ contributes to a natural healthy gut flora.
Provides live microorganisms to benefit health and/or to confer a health benefit.
Serving Size:
1 capsule
Quantity:
60 veggie capsules
Also Contains:
Maltodextrin, Inulin, Vegetable Magnesium Stearate, Silica, Ascorbic Acid, Water-Soluble Cellulose

Please be advised that Well.ca follows manufacturer guidelines for storing & shipping probiotics.
Highlights

Shipping & Returns