Jamieson Vitamin D Soft Chews
Natural Chocolate
60 Soft Chews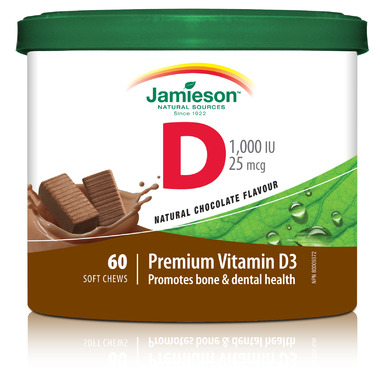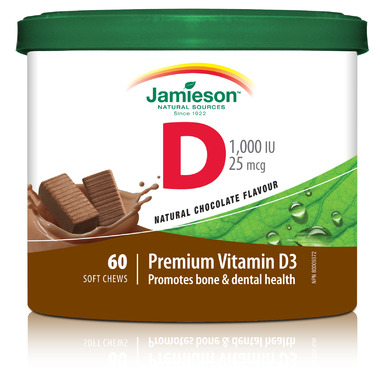 Jamieson Vitamin D Soft Chews
Natural Chocolate
60 Soft Chews
- We're sorry, this product is no longer available!
- Shop for other products in: Vitamin D

Vitamin D is fundamental to good health. It helps prevent major diseases and, by regulating calcium levels throughout the body, supports strong bones. This essential nutrient occurs in two major forms. Vitamin D
2
(ergocalciferol) comes from fungal and plant sources while premium Vitamin D3 (cholecalciferol), which is more natural and beneficial, is produced when skin is exposed to sunlight. Very few foods naturally contain Vitamin D, while heavy clothing, cloudy weather and sun avoidance can all inhibit the production of Vitamin D in the body. As a result, most people experience insufficient levels of Vitamin D for optimal health. Vitamin D Soft Chews 1,000 IU — Natural Chocolate Flavour contain the recommended daily intake of premium Vitamin D
3
derived from the finest lanolin on the sun-drenched slopes of New Zealand.
Benefits:
Helps in normal development and maintenance of bones and teeth
Helps in the absorption and use of calcium and phosphorus
Helps prevent vitamin D deficiency
A factor in the maintenance of good health
Directions: Adults consume one soft chew daily.
Ingredients: Vitamin D3 (cholecalciferol) 1,000 IU/25 mcg Excipients: Sugar, corn syrup solids, corn syrup, natural coconut oil, cocoa powder, natural non-fat milk solid, glycerine, salt, soy lecithin, vanilla flavour.



Dosage: 1000 IU