Jamieson
Jamieson Zinc Lozenges with Echinacea, Vitamins C & D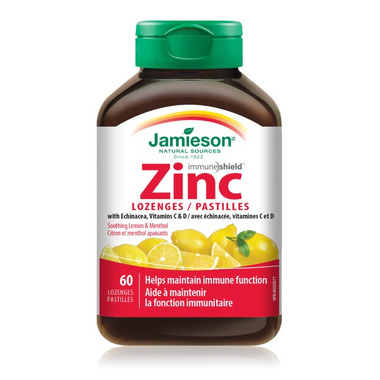 Jamieson
Jamieson Zinc Lozenges with Echinacea, Vitamins C & D
Natural Lemon
60 Count
Jamieson Zinc Lozenges with Echinacea, Vitamins C and D
is rated out of
5
by
11
.
---
Description
Jamieson Lemon Zinc Lozenges are formulated with highly bioavailable zinc citrate, Vitamin C, Vitamin D, to help maintain immune function and optimal health. They dissolve quickly so the body can readily absorb the active ingredients, which provide quick relief from cold and flu symptoms.

Directions: Adults 19 years and older: Take at first sign of cold, flu and dry or sore throat, to a maximum of 5 lozenges daily. Dissolve lozenges slowly in the mouth, after a meal. Take a few hours before or after taking other medications. Store between 15°C and 25°C, away from children.

Nutrient Information: Zinc (Zinc gluconate) 10 mg, Vitamin C 100 mg (Ascorbic Acid, Sodium Ascorbate), Vitamin D3 2.5 mcg/100 IU (Cholecalciferol), Echinacea (5:1 extract) 8 mg (Echinacea angustifolia, root), Equivalent to 40 mg raw herb, standardized, to 4% echinacosides. Astragalus (8:1) extract 1 mg (Astragalus mebranaceous, root), Equivalent to 8 mg of raw herb, Chamomile (4:1) extract 1 mg, (Matricaria recutita/chamomilla, flower), Equivalent to 4 mg of dried herb, Peppermint Leaf 1 mg (Mentha piperita, leaf), Ginger 1 mg
(Zingiber officinale, root)

Also Contains: Dextrose, cellulose, natural flavours (lemon, anise, menthol, eucalyptus oil), vegetable stearic acid, citric acid, silica, sucralose, calcium carbonate, camphor. NO salt (NaCl), gluten, lactose, artificial colours or flavours.

Highlights

Shipping & Returns
Rated

5

out of

5
by
Larissa
from
another great product from jamieson! they dissolve quickly in your mouth giving you relief of a dry or sore throat instantly. I love that this lozenge not only helps with throat irritations but it has vitamin c as well to help boost your immune system if you're ill while using them. I will definetely purchase these again!
Date published: 2012-10-24
Rated

4

out of

5
by
Lucia
from
As soon as I start feeling a sore throat coming on I take these and it boosts my immune system and nips it in the bud. They taste good too. My older children enjoy these as well. I highly recommend these zinc lozenges.
Date published: 2012-09-07
Rated

5

out of

5
by
Carol
from
I've often found that taking zinc at the first sign of a cold really does help to nip it in the bud. These lozenges are great! I always make sure to have zinc in the house once cold and flu season starts.
Date published: 2012-11-15
Rated

4

out of

5
by
Blair
from
I take one every day and increase if I feel I am coming down with something. I've always like the cool, very mild flavour of them.
Date published: 2017-04-10
Rated

5

out of

5
by
Brenda
from
I've used this zinc for years just to help keep my immunity up all year round. This is the best price I've ever found on it!
Date published: 2017-08-31
Rated

5

out of

5
by
paleo
from
works!!
I use these when I feel compromised, a hint of a a cold or irritated throat coming on. I really believe in them.
Date published: 2022-04-10
Rated

4

out of

5
by
Annette
from
These are pleasant-tasting lozenges. They break up quite quickly, even when trying not to bite down on them.
Date published: 2013-11-08
Rated

5

out of

5
by
Dale
from
prevention
I regularly use this during cold season. A few extra when I feel I have been compromised.
Date published: 2022-12-27