John Masters Organics Herbal Cider Hair Clarifier & Color Sealer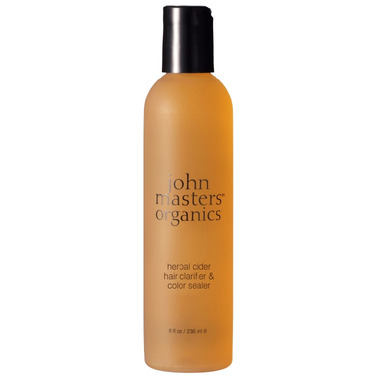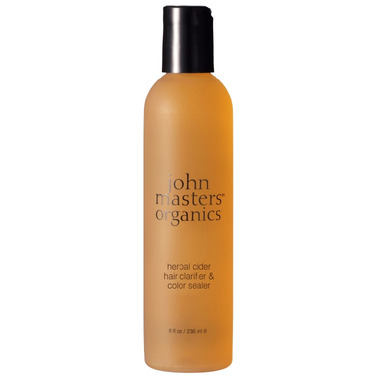 John Masters Organics Herbal Cider Hair Clarifier & Color Sealer
John Masters Organics Herbal Cider Hair Clarifier & Color Sealer is a mixture of 7 certified-organic herbs & essential oils and organic apple cider vinegar eliminates buildup on the hair shaft while restoring the proper pH level to the scalp, leaving hair and scalp feeling fresh and healthy. Excellent for sealing in color.
Features:
Cleans away buildup and environmental residue, including lime from hard water
Softens hair with 4 herbal infusions
Neutralizes pH after chemical process (color, hi-lites, perms)
Vinegar aroma dissipates quickly
Key Ingredients:
Apple cider vinegar - removes sebum and product buildup on hair shaft
Lemon oil - alleviates oil from scalp; antioxidant; antibacterial; antiseptic
Nettles - makes hair shiny and thick
Rosemary - stimulates hair growth; adds volume and shine
Usage:
once-weekly hair clarifying treatment; good for all hair types; excellent for keeping in new color
Directions:
Use after shampooing and before conditioning
Dilute 1 capful in glass of water
Pour over head and throughout hair
Leave in for 1-3 minutes
Rinse well
Ingredients:
Vinegar (apple cider),* aqua (water), chamomilla recutica (chamomile) flower extract,* calendula officinalis (calendula) flower extract,* camellia sinensis (green tea) leaf extract,* rosmarinus officinalis (rosemary) leaf/stem extract,* urtica dioica (nettle) root extract,* potassium sorbate, sodium benzoate, citrus medica limonium (lemon) peel oil,* citrus aurantifolia (lime) peel oil*
* NOP Certified Organic


Angela:
more than a year ago
I was hoping that this product would keep dandruff at bay without making my color fade. Unfortunately it doesn't work for dandruff (they do not say it does) and though it did not strip my color, my hair was pretty dry after use and my curls did not like this product as they were not curling well afterwards. Anyhow, expensive for nothing in my opinion and pretty harsh in comparison with Rusk sulfate-free detox.
1