Josh Rosebrook Styling Cream Medium Hold
Josh Rosebrook Styling Cream Medium Hold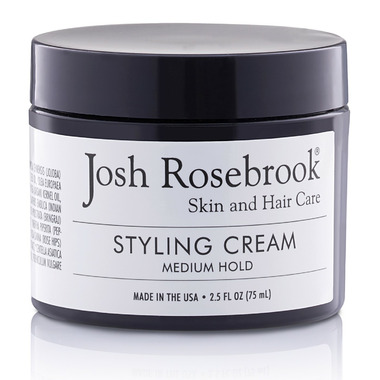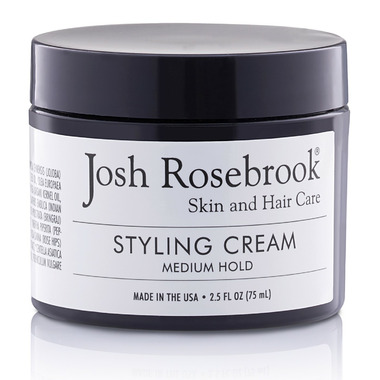 Josh Rosebrook Styling Cream Medium Hold
Josh Rosebrook Styling Cream Medium Hold
The Josh Rosebrook Styling Cream is a multi-use hair styling product that defines the modern look, and has an effortless, balanced finish. It includes a scalp-healing and follicle-stimulating herbal infusion and vital nutrients, creating a potent synergy that encourages scalp health and continued hair growth.
Features
:
Creates height, separation and texture for a weightless finish on short hair styles
Smooths out frizz and defines curly, wavy hair when air drying
Use as a rich leave-in conditioner that seals in moisture, giving damaged hair a smooth, shiny, healthier look
Works as a protective treatment that smooths down and protects the cuticle, reduces frizz and adds shine when using heat-tools
Tames fly away hair for smooth finish
Infused plant synergy stimulates cell follicles for strong, continued hair growth and a healthy scalp
Tips
: Depending on your personal hair density and texture apply the proper amount to blow dried or towel dried hair and diffuse or style as desired.
Ingredients
: *Shea Butter, *Aloe Vera Leaf Juice, †Marula Seed Oil, *Jojoba Seed Oil, *Coconut Oil, *Baobab Oil, *Apricot Oil, *Grape Seed Oil, †Olive Oil, *Meadowfoam Seed Oil, *Tamanu Seed Oil, *Hemp Seed Oil, *Argan Oil, *Evening Primrose Oil, *White Rice Seed Water, ‡Candelilla Wax, *Rosemary, *Indian Gooseberry, *Burdock, *Calendula, *Linden, *Bringraj, *Nettle, *Fenugreek, *Catnip, *Ginseng Root, *Peppermint, *Chamomile, *Sage, *Alfalfa, *Rose Hips flower, *flax Seed, *Dandelion, *Ginger,*Gotu Kola, *Yucca, §Potassium Sorbate, §Xanthan Gum,*Gum Arabic, *Guar Gum, †Litsea Cubeba Essential Oil, †Fennel Essential Oil, †Cardamom Essential Oil,†Bergamot Essential Oil, †Lime Essential Oil.
*certified organic, †organic, ‡wildcrafted, §non-gmo plant sourced


Sonya:
a few months ago
Really wanted to love this, but it is very thick and pasty..you really have to rub it well into your hands first before you put it on your hair. Also if you put too much it makes your hair look oily and heavy. I would recommend this as more of a putty/molding styling product for shorter styles, but not for long thick wavy hair. Does smell good though....
Page
1