Kaizen Naturals Concentrate Whey Protein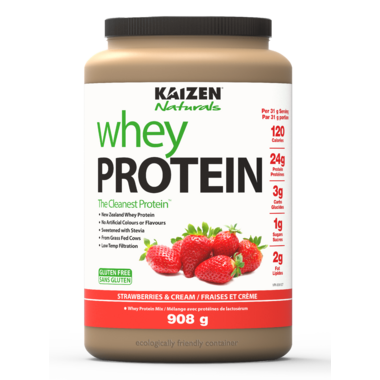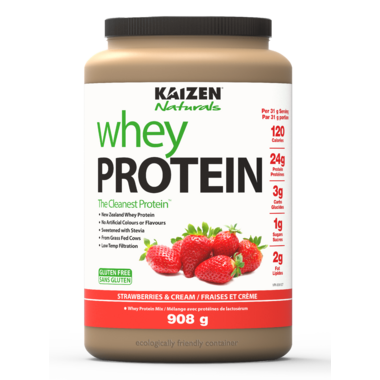 Kaizen Naturals Concentrate Whey Protein
Kaizen® Whey Protein is a convenient and great tasting option for individuals who are wanting to add more protein to their diet
24 grams of protein per serving
Low in carbohydrates
Sweetened with stevia
Low in fat
Suitable for vegetarians
Gluten free
No artificial flavours, colours or sweeteners
Third party tested to meet safety levels required for heavy metals and pesticide residue
Caution:
Manufactured in a peanut free facility, contains milk, contains soy


Bonnie:
more than a year ago
This is one of the highest quality whey proteins on the market and at Well.ca I got a terrific price. The fact it is whey protein concentrate ot just isolate means you are receiving the benefits of the healthy fats that come from grass fed cows (versus grain). Yes fat can be healthy and it feeds your brain as well as your muscles. The only reason I didn't give this 5 stars is that I actually find the shakes too sweet - yes it is sweetened with Stevia so calories aren't the issue but taste is. I would love if they would dial back the sweetness!
Dominic:
more than a year ago
The best and cleanest whey protein money can buy. Taste is good although nothing to brag about. But what there is to brag about is the fact that it comes from New Zealand. I did my research and found out that all or most of New Zealand's cattle are free-range and typically raised on green pasture and are required by law to NEVER be injected with bovine growth hormone or given antibiotics. The end result is whey protein that's free of pesticides, residual antibiotic and hormones which gives this superior product a HUGE advantage over the common yet inferior whey protein products derived from North American factory-farmed cattle. I'll definitely be using this stuff from now on.
Page
1