Ddrops
Kids Ddrops Liquid Vitamin D3 400 IU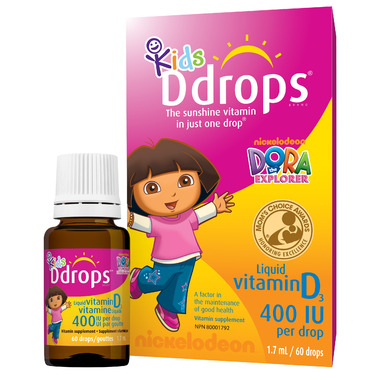 Ddrops
Kids Ddrops Liquid Vitamin D3 400 IU
1.7 mL
Kids Ddrops Liquid Vitamin D3 400 IU
is rated out of
5
by
28
.
---
Description
Kids Ddrops® is a simple and fun way for toddlers and children to receive 400 IU of vitamin D to support healthy development of bones and teeth. Parents will love the simplicity of administering Kids Ddrops®, and children will enjoy taking the tiny drop every day. The Canadian Paediatric Society recommends a daily vitamin D supplement dose of 400 IU for children 6 to 24 months who are receiving breast milk.

Dosage: For children over 1 year of age: Take 1 drop a day, or as directed by a healthcare practitioner. Dispense drop onto food, drink or may be licked off a clean surface such as the back of a washed hand.

Highlights

Features
400 IU of pure vitamin D3 in just one drop
Made with just two naturally sourced ingredients: pure vitamin D3 and fractionated coconut oil
Free from preservatives, additives, artificial flavours, colours and common allergens
Ingredients
Medicinal Ingredient: 400 IU of vitamin D3 (cholecalciferol) Non-Medicinal Ingredient: Fractionated coconut oil
Shipping & Returns
Rated

5

out of

5
by
Jessica
from
I put it in my toddler's apple sauce and he doesn't suspect a thing. He won't take multi vitamins so this is the minimum I can do for him. Now, if only there was a tasteless multi-vitamin version I'd be REALLY happy...I'll buy this again until that happens. Worth it since I have a cupboard full of vitamins he won't take.
Date published: 2014-09-10
Rated

5

out of

5
by
Lise
from
great she's been on the baby drops and would actually run over and open her mouth and wait for the drop then run off all happy!!! Sooo cute. Thanks for making such a handy way to get her boosters.
Date published: 2012-08-24
Rated

5

out of

5
by
Laura
from
Easy to use, I put a drop of it in the morning milk of my 3 years old, and he does not seem to notice any change in taste. And my toddler likes the colourful bottle with the Dora design.
Date published: 2012-12-19
Rated

5

out of

5
by
Leanne
from
My son loves taking these - holds out his spoon at breakfast to get his drop! So much easier to give the 800IU recommended for kids (up north) in two drops instead of 2mL!
Date published: 2012-02-08
Rated

5

out of

5
by
Sara
from
My little 14 month old loves the Dora on the bottle and sticks out her tongue to take the drop! Much better price here than in the store without having to leave my couch!
Date published: 2015-12-08
Rated

4

out of

5
by
Lori
from
I do like that these drops contain only two, non-toxic ingredients- I just wish that the company would offer a vegan-friendly version for their kids line as well.
Date published: 2011-10-13
Rated

4

out of

5
by
Lisa
from
Easy to use, and my daughters willingly take the drops, so the taste must be good. The only drawback is that it is difficult to get the last handful of drops out.
Date published: 2017-06-13
Rated

4

out of

5
by
Lawrence
from
This kids ddrops is great, my 5yrs boy loves its sweet taste. The price is lower than super store sometimes, but last time the shipping takes 4 days to arrive.
Date published: 2019-11-01