Lakota
Lakota Joint Care Formula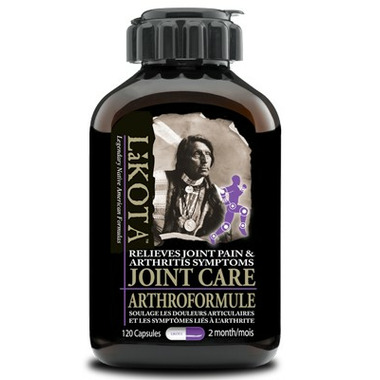 Lakota
Lakota Joint Care Formula
Description
Lakota Joint Care Formula is a targeted multi-action, natural-source medicine for arthritis and joint pain. Lakota's proprietary Joint Care Formula contains natural source pain relievers and anti-inflammatories. These ingredients are combined with nutrients that aid in cartilage repair in a convenient, single daily tablet or capsule that delivers effective pain relief.
Features:
Helps to relieve osteoarthritic symptoms
Protects against the deterioration of cartilage from chronic joint diseases
Effective in reducing joint pain
A factor in maintaining joint health
Directions: For long-term benefits and relief, this product should be taken everyday. Adults – Take 2 capsules twice daily with food. After four weeks of pain relief, take 1 capsules twice daily with food. Do not exceed 8 capsules per day. Use for a minimum of four weeks to see most beneficial effects.
Medicinal Ingredients: (Each capsule contains)
Glucosamine sulphate 375mg

Boswellia (Boswellia serrata) 65% Boswellic acid 60mg

White Willow Bark (Salix alba) 50mg

Yucca (Yucca schidigera) 15mg

Devil's Claw (Harpagophytum procumbens) 15mg

Sarsaparilla Root (Smilax medica) 15mg

Feverfew Leaf (Tanacetum parthenium) 10mg

Bromelain (2400GDU/g) 5mg

Collagen Type II 30mcg
Pantothenic Acid 5mg

Copper 0.350mg

Manganese 0.750mg

Selenium 13mcg
Non-Medicinal Ingredients: Magnesium stearate, gelatin

Gluten Free, Yeast Free, Sugar Free, Dairy Free. No artificial preservatives or flavours.
Highlights

Shipping & Returns
Unfortunately, due to the nature of this item, we cannot accept any returns.
We are only able to ship this item to Canadian customers.
Click here for more information