Land Art
Land Art for Pets Maxi-Flex Supplement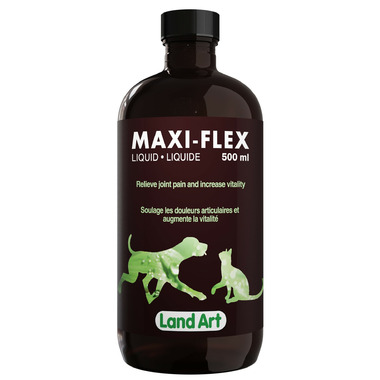 Land Art
Land Art for Pets Maxi-Flex Supplement
Description
As they get older, your dog or your cat may develop arthritis or joint pain.
To help prevent this degenerative disease, it is recommended that you give your pet a glucosamine supplement as of age seven (age five for bigger dogs) or as soon as signs of joint pain appear.


Maxi-Flex is a concentrated, high quality glucosamine sulfate formula that also contains botanical extracts with anti-inflammatory properties that will rapidly relieve your dear friends pain, restoring vitality and enthusiasm!

To Use:
Intensive treatment: One dose per day, everyday for 3 months.
Preventive treatment: One dose per day, 4 times a week for 6 months or as needed.
Give with food.
Medicinal Ingredients:
per 15 mL
Glucosamine sulfate 2KCl ... 500 mg
Devil's claw, root (Harpagophytum procumbens) ... 70 mg
Cat's claw, bark (Uncaria tomentosa) ... 60 mg
Non-Medicinal Ingredients:
Purified water, beef natural flavour, citric acid, sodium benzoate, potassium sorbate.
Highlights