Land Art Ionic Cal-Mag Liquid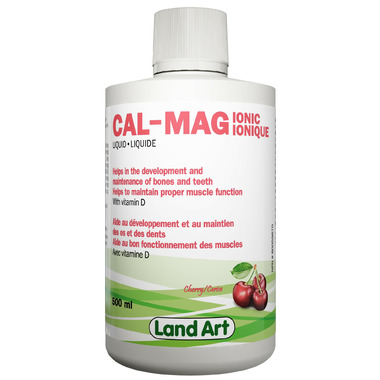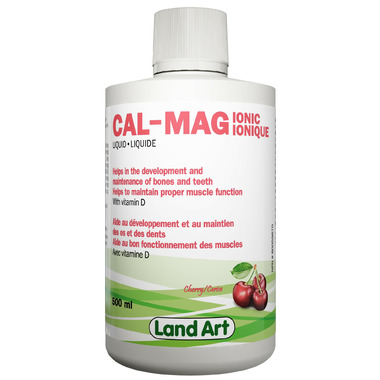 Land Art Ionic Cal-Mag Liquid
Land Art Ionic Cal-Mag is a liquid formula with an optimum calcium-magnesium ratio. Ionic Cal-Mag is a sensible choice particularly for people 50 and over with digestive problems.
Benefits:
Helps in the development and maintenance of bones and teeth.
Helps to maintain proper muscle functions.
Adequate calcium (and vitamin D) throughout life as part of a healthy diet and along with physical activity helps prevent bone loss and/or osteoporosis, especially for in peri- and postmenopausal women.

Suggested Use:
Adults take 2 tablespoons (30 ml) daily.
Medicinal Ingredients:
(Per 15 ml)
Calcium (lactogluconate) 400 mg
Magnesium (chloride) 100 mg
Zinc (gluconate) 2 mg
Copper (gluconate) 160 mcg
Vitamine D3 (cholecalciferol) 25 mcg
Bore (citrate) 52 mcg
Iode (potassium iodide) 60 mcg
Selenium (sodium selenite) 42.5 mcg
Non-Medicinal Ingredients:
Purified water, vegetable glycerin, malic acid, natural cherry flavour, potassium sorbate, stevia
*Contains no dairy, wheat, gluten, yeast or corn.