LaVigne Organic Skincare Vitamin C Serum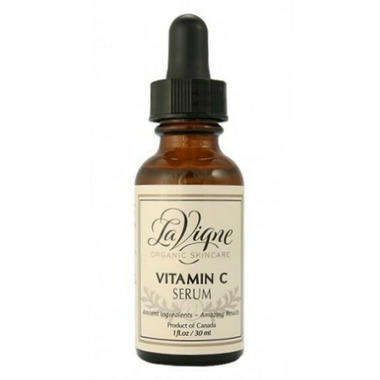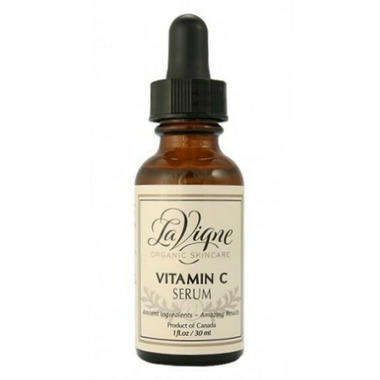 LaVigne Organic Skincare Vitamin C Serum
Some of the richest sources of Vitamin C are found in plums, citrus fruits, berries, cherries and tea leaves. Present in these natural sources, Vitamin C is found linked with water soluble proteins or polypeptides and bioflavonoids. LaVigne's Vitamin C Serum contains a form of Vitamin C that has been stabilized with Citrus Polypeptides as it is found in nature, which allows our serum to retain most of its potency. Vitamin C offers an array of skin conditioning benefits which aid in the maintenance, clarity and resilience of all skin types.
Benefits
:
Anti-oxidant rich formula protects against UV aggression
Contains natural humectants derived from Avocado and Rosehip Oils
Boosted with Vitamin A & E for intensive fortification
Glycerin resists trans-epidermal waterloss
Also contains Anti-oxidant Alpha Lipoic Acid
Contains 10% Tepescohuite Extract
Vitamin C discoveries:
Vitamin C, when applied topically helps to protect the skin from free radicals that are produced when the skin is exposed to ultraviolet light, environmental pollution or other factors commonly found during everyday life. The Dept of Dermatology at the Tulane University School of Medicine discovered and supports topical use of cosmeceuticals containing Vitamin C as an effective anti-aging anti-oxidant in skin care.
According to a study conducted at the Department of Dermatology,University Hospital St Jacques in France, it was concluded that topical application of 5% vitamin C cream was an effective treatment for sun-damaged skin.The study, conducted over a six-month period, led to a clinically apparent improvement of "photo-damaged skin", suggesting a positive influence of topical vitamin C for sun-induced skin-aging. Changes observed with the consistent use of a topical product containing 5% Vitamin C included a statistically significant improvement of hydration, wrinkles, glare and brown spots.
How to use it:
In the morning after cleansing and toning, apply 2-3 drops of serum to fingertips and gently apply to dry face. Lightly massage serum over face and neck until it has absorbed.
Ingredients
: *aloe barbadensis leaf gel, mimosa tenuiflora (tepezcohuite) bark extract, vegetable glycerin, *glycerin (and) aqua (and) *citrus paradisi fruit extract, caprylyl/capryl glucoside, hyrdroxyethylcellulose, gluconolactone (and) sodium benxoate (and) calcium gluconate *vitis vinifera skin extract, asorbic acid polypeptide, tetrahexyldecyl ascorbate, ferulic acid, *plukenetia volubilisseed oil (and) tocopherol, persea gratissima oil, rosa canina fruit oil, tetinyl palmitate, decyl glucodise (and) lauryl glucoside (and) water (and) alcohol (and) citric acid (and) ananas sativus fruit extract (and) citrus aurantium amara flower extract (And) citrus aurantium dulcis peel extract (and) citrus nobilis fruit ectract (and) citrus grandis peel (and) citrus tangerina peel extract.
*Denotes Organic Ingredients.