Libre Large Garden Dance Pink Tea Glass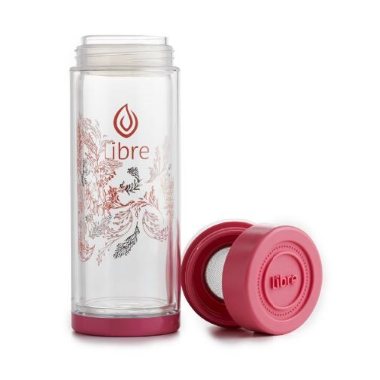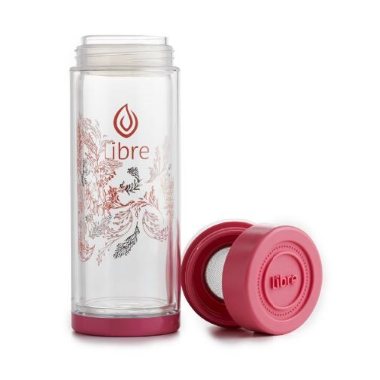 Libre Large Garden Dance Pink Tea Glass
Libre Large Garden Dance Pink Tea Glass features fun filigree of buds and leaves in swirls of pink and silver. The lid, base and filter surround are a beautiful deep pink and the swirls are of ballet pink, dark fuchsia and silver foil.
This 'Pretty in Pink' style is super for healthy and economical hydration 'on the go' - try it for fruit infusions. Berries, citrus, or cucumber waters look and taste fantastic infused in just regular clean water! No sugar, no fake flavours and so economical - even comes with its own snack after a couple of water refills!
And yes, it is perfect for tea including herbals to sooth and calm your day, a dark black to give oomph or a lite green to enjoy knowing it's so good for you.
Or shake it up!! - The filter in the Libre glass is a perfect shaker screen - matcha tea comes out so smooth and frothy and even a quick protein shake is easy to take on the go.
So 'Pink it up' and enjoy your beverages knowing that the glass interior is flavour free for the next drink and so easily washed with its wide mouth AND you know it's so durable so everyday bumps are not an issue!
How to use your Libre Tea Glass infuser – 3 Ways

1. For loose teas or bags in the glass:

Step 1 – remove lid and tea filter, add 2-3 grams of loose- leaf tea to the glass.
Step 2 – add hot water, twist on tea filter and wait for tea to steep.
CAUTION: Steam Advisory – Use Caution With Boiling Water — Allow Time For Steam To Dissipate Prior To Twisting On Lid – STEAM PRESSURE MAY CAUSE LEAKS

2. For teas with limited steeping times:

Step 1 - Remove the lid and filter; carefully add hot water to below the rim of the tea glass.Twist the filter on securely; add 2 -3 grams of loose- leaf tea on top of the filter.
Step 2 - Wait 2-3 minutes prior to twisting on lid so steam pressure does not force a leak upon inverting. After a brief cool down period, twist on the lid securely and slowly turn the glass upside down to steep the tea.
Step 3 - Twist open the lid slightly and let the tea in the filter drain into the glass. Then remove the lid and filter together. Enjoy!(Note: spent tea leaves remain in the filter and can be reused)
3. The lid fits on the glass directly and so the bottle can be used for any beverage due to the Libre's easy-clean interior.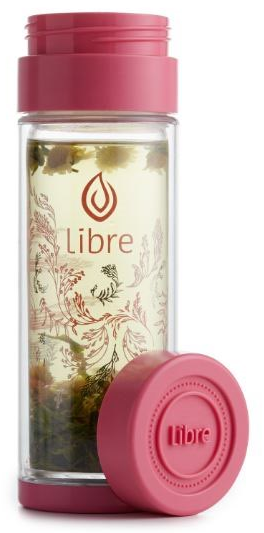 Doris:
about a year ago
I have had a few of the double walled Libre tea glasses, but have had bad luck with them. The first few leaked and the company replaced them, but and all of the replacements broke fairly quickly. I have 3 of these glasses in different colors and I like them a lot better than the 9 oz ones. First off.....no leaking! Second, maybe because they are bigger with a wider, more stable base, but they don't tip as easily so I haven't broken them yet! (Knock on wood!). I would give 5 stars if the tea were to stay warmer longer. Full disclosure: I have only had the glasses for about 2-3 months.
Cindy:
more than a year ago
I really liked this tea infuser because it was simple to use and easy to clean. However, I had ordered this glass to replace one I had recieved as a gift. The first one I had I used for almost a year, and one day found liquid trapped in between the double walled glass, and I could not see how it got in there or how to clean it. I thought perhaps I broke it while cleaning it and so ordered this one. After 3 uses the same thing happened, even though I was extra careful with maintenance! I had to contact Libre directly to request a refund, but they indicated it was under warranty and sent me a new one instead. It's hard to say that I just have bad luck with these bottles, instead of it having faulty manufacturing issues.
Page
1