Lorna Vanderhaeghe ESTROsmart Plus
with Vitex (80 mg)
60 Vegetarian Capsules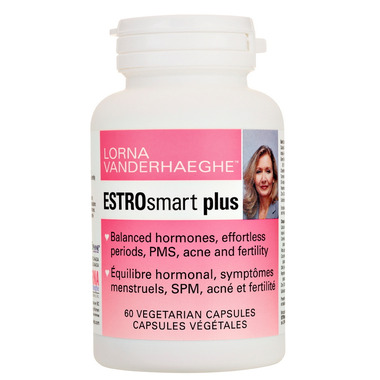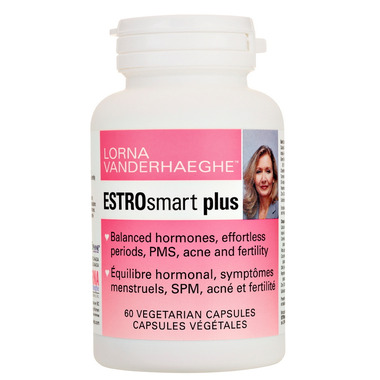 Lorna Vanderhaeghe ESTROsmart Plus
with Vitex (80 mg)
60 Vegetarian Capsules
All women need hormone balancing therapy, but especially women with severe PMS, mood swings, and ovulation problems. ESTROsmart Plus with Vitex (80mg) contains a combination of nutrients to promote hormonal balance in adult women.
Features:
Maintains healthy estrogen-to-progesterone balance
Controls severe PMS
Halts mood swings
Regulates menstrual cycle
Eliminates hormonal acne
Improves fertility by normalizing ovulation
Key Ingredients:

Calcium D-glucarate is a powerful detoxifier of excess and toxic estrogens. It helps the body get rid of toxic substances through the liver. It is also a powerful antioxidant that increases the activity of other antioxidants such as vitamin C and carotenoids.
Indole-3-carbinol (I3C) is an anti-cancer plant nutrient found in cruciferous vegetables. I3C helps to break down cancer-causing estrogens into non-toxic forms. I3C maintains a healthy cervix, protects against HPV cervical lesions and controls abnormal cell growth found in those with uterine fibroids, endometriosis, ovarian cysts and breast lumps.
Green Tea Extract contains polyphenols, catechins and flavonoids, which are shown to be protective against estrogen-related cancers. Green tea inhibits cancer by blocking the formation of cancer-causing compounds. It also increases detoxification and is essential for weight loss.
Chastetree Berry, also known as Vitex, is a well-researched herb that indirectly increases progesterone and helps to regulate the menstrual cycle. Vitex is useful in the treatment of menstrual abnormalities, PMS, hormonal acne, menopausal complaints and infertility.
Curcumin is a powerful anti-inflammatory and it works to inhibit all stages of cancer formation: initiation, promotion and progression. It is a potent antioxidant and a powerful liver detoxifier.
Diindolylmethane (DIM), helps to break down cancer-causing estrogens into non-toxic forms. It is a powerful antioxidant and also helps to support the healthy detoxification of excess hormones. DIM is one of the products created by the breakdown of I3C in the body.
Rosemary Extract, a potent antioxidant, protects cells from cancer-causing agents, inhibits the growth of cancer cells and helps to detoxify toxic estrogens.
Zinc helps to balance hormones and is used to treat hormonal acne. PMS sufferers are more likely to have low zinc status. Zinc is also needed for healthy muscle contraction and menstrual regulation.
Sulforaphane from BroccoPhane broccoli sprout extract stimulates the body's production of detoxification enzymes that eliminate toxic estrogens. Sulforaphane is a powerful antioxidant and anti-cancer agent that also stops brown (aging) spots on the skin.
Suggested Usage:
Adults (12 years and older) take 1 - 2 capsules daily with food for prevention, hormonal acne, effortless periods, fibrocystic breasts, fertility and balanced hormones or as directed by a health practitioner.
Do not use if pregnant or breastfeeding.
Each Two Capsules Contains: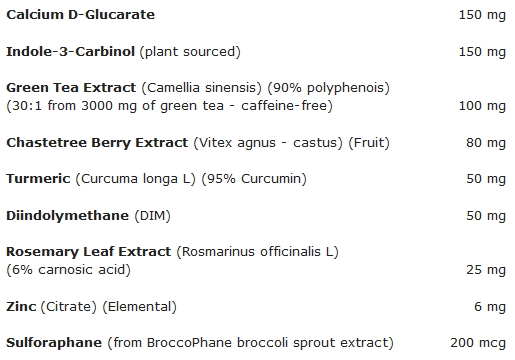 This product does not contain irradiated rice flour, artificial preservatives, colours or sweeteners, dairy, soy, wheat or yeast. VEGAN-FRIENDLY. GLUTEN-FREE.




Marjorie:
more than a year ago
We been trying to get pregnant for sometime now and nothing seems to work. I ate healthy, lots of vegan, gluten free foods a balanced of veggies and protein, carbs too. I exercise and did yoga for fertility, Acupuncture, meditation, did the spa a couple of times to relax, took prenatal vitamins. We visited different doctors and Naturopath/Homeopathy/Colonic Irrigation, and We even visit a fertility Center and did some treatments. We did't give up, just last October we visited family in Vancouver and someone recommend takeing ESTROsmartPlus and I did for 4 months with healthy eating of course and my regular exercise...we got pregnant!
OMG...it worked!
I can say I happily delivered my child into this world!
Thank you Lorna Vanderhaeghe
😊
Jen:
more than a year ago
Smooth sailing PMS. All of my acne has minimized to 1 or 2 around my chin. I get major outbreaks during PMS over chin, neck, and jaw line. I noticed a difference after two weeks, but noticed better over all PMS after 2 months which I totally understand because it takes your body to adjust to these supplements. Hang in there ladies!!!
Rae:
more than a year ago
I have had hormone problems and irregular periods since my first period. I took these and my next period was awful. The cramps were almost crippling amoungst other things. I would chalk this up to coincidence but since this never happened to me in the past 15 years I'm pretty sure these had something to do with it. I stopped taking them and haven't had that sort of PMS since. I've now committed to a much safer and healthier hormone balancer: regular exercise.
Page
1