LunchBots Quad With Green Dots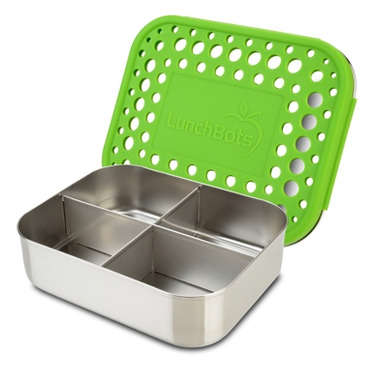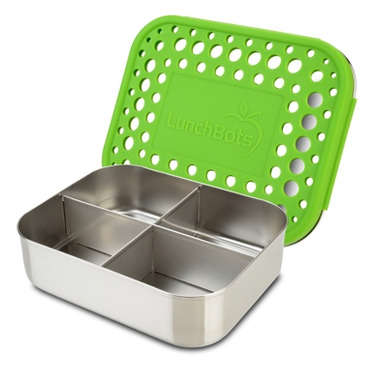 LunchBots Quad With Green Dots
With four compartments, LunchBots Quad Stainless Steel Food Containers deliver variety: nuts, grapes, cheese and pretzels; apple wedges, pasta, broccoli and meatballs; olives, cucumber slices, berries and sandwich quarters.
This all-stainless container and lid are enhanced with a snap-on, BPA-free, colourful plastic cover. Only steel touches your food, while the durable color adds to the fun.
The cover is attached securely to the lid and can be washed in the dishwasher while attached. It is removable for occasional thorough cleaning.
Features:
Modern shape and four compartments hold a variety of snacks
Only food grade stainless steel comes into contact with your food. No linings. No toxins.
Container and lid made of the highest quality 18/8 stainless steel, easy-to-clean, and virtually unbreakable.
Refill your LunchBots over and over, save money and add zero waste to landfills.
Quad food containers are best for dry foods as lids are not water tight
Dimensions - Container: 6" x 5" x 1.75", Each section 3" x 2.5"
Capacity - Container: 20 fl. oz./600 ml, Each section: 5 fl. oz./150 ml
Mary:
a few months ago
I have used this a few times and like it. I do think it could be a bit small for an older child, depending on what you pack. And it is not for liquids. Other than the my JK son can open and close the container, the lid is separate which takes up less space. It fits easily into the lunch bag. I look forward to using this for a long time.
Page
1