ME to WE Chocolate That Gives Education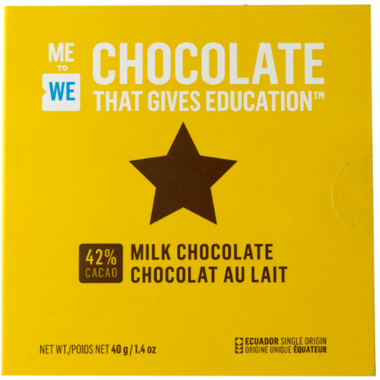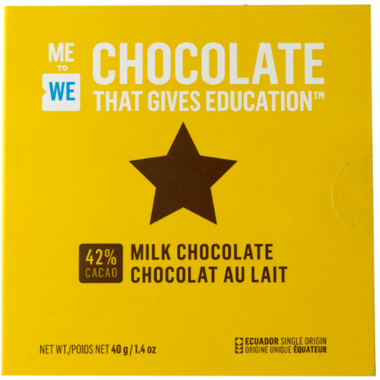 ME to WE Chocolate That Gives Education
Chocolate like no other—in taste and social impact. All ME to WE Chocolate is made with Ecuador's prized national cacao bean, Fino de Aroma, celebrating its flavour and farmers. And each bar gives education impacts to schools in Ecuador, a full circle of doing good.
Bean to bar and beyond. Treat yourself, and make the world a little brighter at the same time. What's the story of ME to WE Chocolate from bean to bar?
Provide a fair wage? Check.
Support sustainable cacao farms? Check.
Celebrate Ecuador's cacao ancestry? Check.
Give proceeds back to communities in Ecuador? Check.
The boxes are ticked and the chocolate is ready; this is a bean to bar process with impact in every step.

Features:
42% cacao
Gives education in Ecuador
Empowers Ecuadorian cacao farmers
Made with Ecuadorian Fino de Aromabeans
Sustainably grown
Ingredients:
cocoa mass, sugarcane, cocoa butter, whole powder milk, skim milk powder, soy lecithin non GMO.
Contains: milk, soy. May contain traces of peanuts, tree nuts and wheat.