Melissa & Doug Wooden Town Play Set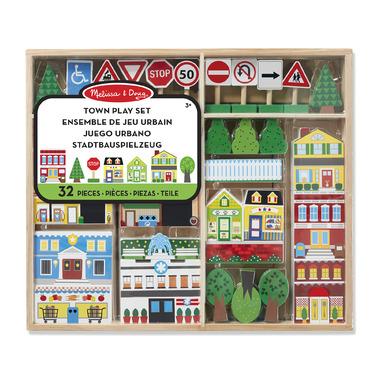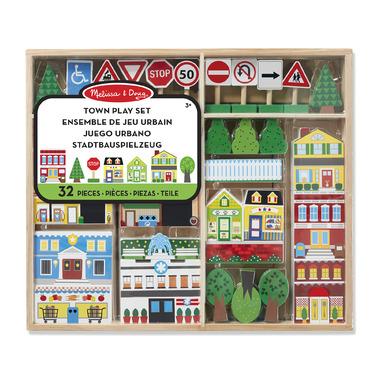 Melissa & Doug Wooden Town Play Set
Build a world filled with imagination, block by block! This wooden 32-piece play set includes everything needed to create a miniature streetscape--12 buildings (including fire and police stations, a recycling center, service station, house, and more), nine street signs (Stop, One Way, Speed Limit, Yield, etc.), trees, fences, and walls. The brightly colored shaped solid wood pieces stand approximately one to three inches high. Flat sides, attention to detail, and bright colors make this set great for stacking, sorting, counting, setting up, and knocking down. Designed to play perfectly with Melissa & Doug activity rugs, kids three and older will also have endless fun and playing with the set independently or combining it with other play pieces, toy cars, and figures. Pieces store neatly in a divided wooden tray.


Sarah:
a few months ago
Fantastic for younger and older kids alike! Little kids love holding and looking at the pieces. Older kids practise fine motor skills setting up the town.
Tons of open ended play. Love that it's wooden!
Comes with wooden divided box to keep it divided and organized.
Perfect fir putting on a shelf so kids can get it out themselves and pick it up and put it away too!
Niomie:
about a year ago
Bought this as a Christmas gift for my 2 year old son. I can't wait to give it to him! Great quality and comes in a wooden crate that you can use to store the pieces or reuse for something else. It's also larger than I expected. I bought this to go with the Melissa and Doug 100 piece set of wooden blocks that he already has. I think it will be a hit!
Page
1