Mepiform Self-Adherent Soft Silicone Dressing for Scar Care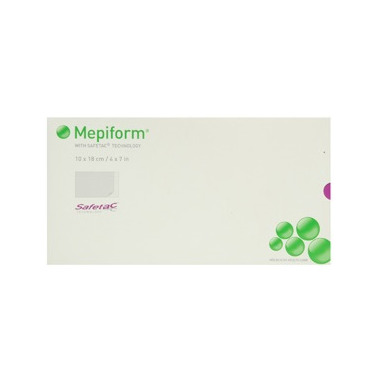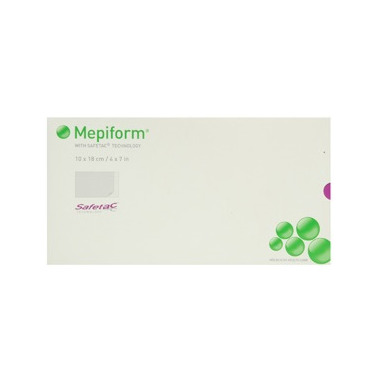 Mepiform Self-Adherent Soft Silicone Dressing for Scar Care
Mepiform, with Safetac technology (soft silicone) smoothes, softens and fades red and distinctive scars resulting from surgery, accidents, cuts, and burns. Mepiform may be used as a prophylactic treatment to avoid scar formation, which may take up to one year.
Mepiform is a thin and discreet dressing, designed for the management of both old and new hypertrophic and keloid scars. It can also be used as a prophylactic therapy on closed wounds for prevention of hypertrophic or keloid scarring. With the patented Safetac technology, it also minimizes pain during dressing changes.

Topical silicone has empirically been shown to have a positive impact on hypertrophic scars and keloids.4, 5 It may take from three months up to a year or more to improve an old scar, depending on the condition of the scar tissue. Mepiform should optimally be worn 24 hours a day. It is recommended that Mepiform is removed once a day, e.g. when showering or bathing, for inspection and washing of the skin. For prophylactic treatment, Mepiform should be used for two to six months, depending on the condition of the scar.

Features:

Minimizes pain and trauma during dressing changes

Clinically proven to reduce scarring and reduce scars

Conforms well to body contours, no need for extra fixation

Can be worn during daily activities and be reapplied



Usage:

1. Ensure wound is fully healed and sutures have been removed.
2. Mepiform should be worn 24 hours a day. Remove the dressing daily to inspect and cleanse the area and then reapply. Under normal conditions, the same Mepiform® dressing can be used for up to 3-7 days .
3. Choose a dressing size that will allow the dressing to overlap the scar treatment area by at least 1 cm. Mepiform® can be cut to size if required.
4. For optimum results, Mepiform® should be used for 2-4 months or longer depending on the condition and age of the scar tissue.
5. Treatment periods will vary. Improvement can usually be seen after 4 weeks of treatment. To ensure maximum effectiveness, Mepiform® should be applied when the scar is newly formed.