MetaSlim CLA EPH & DHA MCT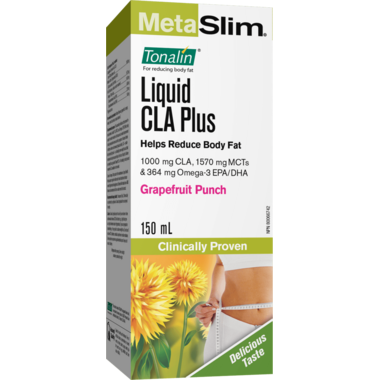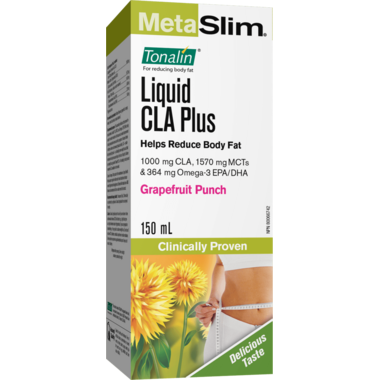 MetaSlim CLA EPH & DHA MCT
Combines triple weight management support of CLA, omega-3 EPA and DHA, and MCTs Each 5 mL serving contains 1000 mg CLA, 1570 mg MCTs, and 364 mg omega-3 EPA/DHA Blended with natural, non-GMO flavours and low-calorie monk fruit Contains high-quality omega-3 EPA/DHA with verified purity and potency Includes Tonalin CLA and omega-3s in triglyceride form for the most efficient absorption and use by the body Convenient 1-3 teaspoon(s) per day dosing delivers quality sources of energy and healthy fats
Directions:

Recommended dosage (adults): 1 teaspoon (5mL) 3 times daily or as directed by a physician. Consult a physician for use beyond 6 months.
Ingredients:

Each teaspoon (5mL) contains: Conjugated Linoleic Acid (CLA) (non-GMO safflower oil) 1000 mg Medium Chain Triglycerides (MCTs) (Cocos nucifera ) (fruit flesh) 1570 mg Fish Oil (anchovy, sardine, and/or mackerel) 1400 mg Omega-3 Fatty Acids 406 mg Eicosapentaenoic Acid (EPA) 224 mg Docosahexaenoic Acid (DHA) 140 mg Triglyceride form

Caution:

Consult a physician prior to use if you are obese or have cardiovascular disease (CVD) risk factors (e.g., high blood pressure, high cholesterol and/or triglycerides), if you are pregnant or breastfeeding, or if your goal is to achieve weight loss. Do not use if you have CVD, diabetes, metabolic syndrome, or insulin resistance. Some people may experience gastrointestinal upset. Keep out of reach of children.
Free of artificial colours, preservatives or sweeteners; no dairy, starch, sugar, wheat, gluten, yeast, corn, egg, shellfish, salt, tree nuts or GMOs. Canadian Brand