method
Method Laundry Detergent in Fresh Air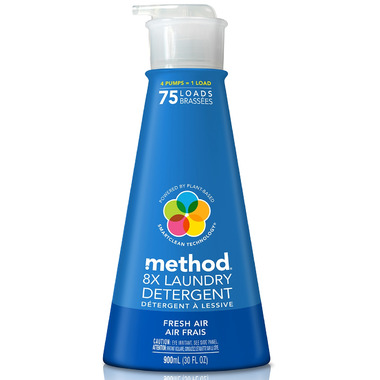 method
Method Laundry Detergent in Fresh Air
Description
It may be hard to believe, but this tiny bottle of 8X ultra-concentrated Method laundry detergent can do big things!

That's because the plant-based formula with smartclean technology® seeks out dirt and stains in a revolutionary new way to deliver beautifully clean clothes with just 1/4th the dose of the leading brand. Plus, its handy pump makes for easy, one-handed use. No mess. No waste. No aching biceps.

Fresh Air Fragrance: You've heard that saying before, when something refreshing just breezed in, and everything's a little bit better because of it? Well, this scent is just like that – a breath of fresh air. the kind you smell. Pretty much named itself.

Ingredients: coco/soy methyl ester + sulfonate / ethoxylate, lauryl + oleoyl alcohol ethoxylates, glycerin, sodium alkane sulfonate, peg 300 monooctyl ether, decyl glucoside, ethyl levulinate glycerol ketal, carboxymethylinulin, mipa-lactate, cellulase, protease, amylase, mannanase, lipase, ethanol, purified water, fragrance oil blend (not used in free of dyes + perfumes), carboxylate polymer, distyrylbiphenolsulfonate, propane diol.
Highlights