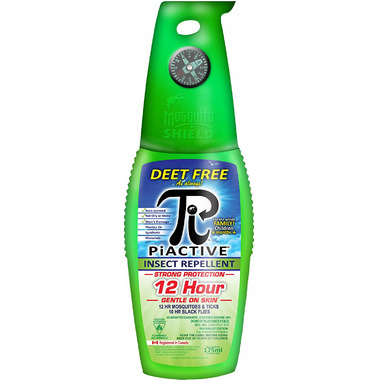 175 mL
Mosquito Shield PiActive DEET Free Insect Repellent
is rated out of
5
by
15
.
---
Description
PiActive is an Icaridin based repellent, that is effective and long lasting without DEET.
The patented cap comes with a fully functional compass, whistle and carabiner hole for transportation. Wash whistle thoroughly before using.
Features:
Repels, effective, durable
Will not damage fishing lines, plastic or other synthetic materials.
Unscented
Adult formula
Non-irritant
Not oily, greasy, or sticky
Provides long-lasting protection
10 hrs of protection against black flies
12 hrs of protection against mosquitoes and ticks
Active Ingredients:
Icaridin
Directions for Use: Hold 15 to 20 cm from skin while spraying, keeping nozzle pointed away from face. Slightly moisten skin with a slow sweeping motion. Apply sparingly, not under clothing and only when necessary. Do not apply directly to face or to excessively sunburned skin. TO APPLY TO FACE: Spray hands and apply avoiding eyes and mouth. Apply sparingly around ears. Do not spray in enclosed spaces. Reapply if necessary after 12 hours for protection from mosquitoes and ticks, and 10 hours for protection from black flies.
REG No. 31463 P.C.P. ACT

Rated

4

out of

5
by
Sheluck
from
Such a great repellent
I've heard great things about this bug spray so I finally jumped the gun. I love how it repells mosquitos, black flies and ticks so that I don't have to get seperate sprays to eliminate other bugs. It has no scent which is amazing, especially for my kids. It is absolutely long lasting and there were no bites on my kids which was fantastic. I absolutely LOVE this spray and will continue to order this. One con I will say is that I noticed my bottle was only 3/4 full. At first I had thought I used up that much for only 3 kids and myself and was blown away but I compared to another bottle I had and it was also only 3/4 full. Is there a reason why it's not completely full???
Date published: 2020-06-29
Rated

5

out of

5
by
Donna
from
the best bugspray
I have used this bugspray for a couple of years now. I originally started because it is safe for such a young age and it has 20% picardin (what is recommended to repel ticks). I admit, I am paranoid about ticks and this spray gives me some peace of mind. It is smelly, I do recommend you spray it outdoors.
Date published: 2020-05-23
Rated

5

out of

5
by
peggy
from
I was so happy to find a DEET-free mosquito repellent. I used this in Congo and will continue to use it wherever I need to.
Date published: 2019-07-31
Rated

5

out of

5
by
chickano
from
Better than DEET
I started using this product after discovering it while on the hunt for something DEET free. I'd say it's way more effective than DEET containing products, smells great and lasts much longer without having to reapply. Very happy with it and will only be using PiActive from now on.
Date published: 2020-07-06
Rated

5

out of

5
by
Hummingbird and cie
from
Since the arrival of this discreat no smell and greatly efficent flying bug repellent I am so amazed. I also used it on my horse and was very efficent I just add to the mix : aspic lavender and geranium plus tea tree when in ticks zone. My dog, myself and horses were very protected. Why adding. the ticks are smell repulsing. Pi as no smell. I repeat that IT IS THE MOST DISCREAT MUSKITOES, BLACK FLIES AND OTHER REPELLENT BUT NOT AGAINS TICKS? IN PARTY MY PERFUME IS NOT FLY REPELLENT IT IS SO DISCRET. WOW.... IT WORKS IN GARDEN PARTY AND ON THE FISHING TRIP. BRAVO
Date published: 2020-05-16
Rated

5

out of

5
by
momma T
from
really works!
Effective product . I love that it is made from peppers, which gives me little concern over negative health effects. Discovered this product last year from word of mouth and have been spreading the good news ever since.
Date published: 2020-07-18
Rated

5

out of

5
by
adeian132
from
amazing product! bought it as an alternative to deet after doing some research online. product performed amazing and kept away the bugs for hours. love this product and you can use it on kids 6 months and older unlike deet
Date published: 2022-03-22
Rated

5

out of

5
by
sean
from
Best Bug Spray on the Market
Been using this product for a couple years now, so happy Wells stocks it. I love the compass on the bottle, so handy for camping. And the Deet free is a plus for my kids!
Date published: 2022-03-22