Natural Immix Estro Balance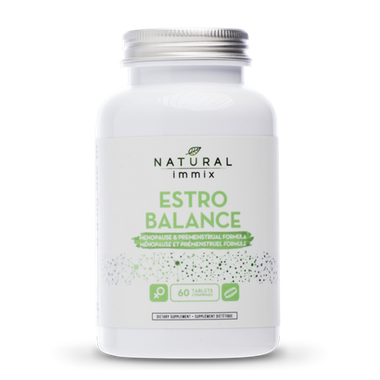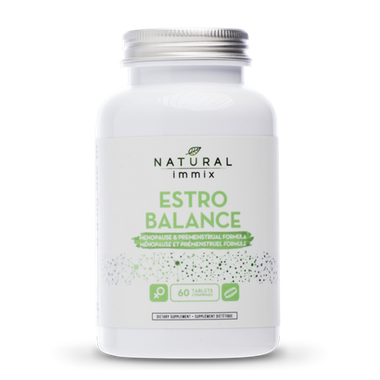 Natural Immix Estro Balance
- We're sorry, this product is no longer available!
- Shop for other products in: Menstrual

Helps reduce symptoms of menopause /flashes / night sweats
Those enduring Premenstrual Syndrome (PMS) can suffer with multiple symptoms including mood swings, depression, irritability, fatigue, tenderness, weight gain, insomnia, cramps, headaches and food cravings. Health professionals agree that healthy lifestyle strategies combined with supplements can effectively help manage and reduce PMS symptoms. Estro Balance is a unique natural remedy that can help manage the symptoms that often accompany hormonal fluctuations from the start of menstruation through till menopause.
Directions:
Take orally 2 tablets per day or as directed by a qualified health care practitioner.
Take a few hours before or after taking other medications or health care products.
Avoid prolonged exposure to sunlight, ultraviolet light (UV) or UV therapy.
Ingredients:
Vitamin D3 (Cholecalciferol)25 IUVitamin E (d-alpha Tocopherol)100 IUVitamin B1 (Thiamin Hydrochloride)5 mgVitamin B2 (Riboflavin)5 mgVitamin B3 (Niacinamide)5 mgVitamin B6 (Pyridoxine Hydrochloride)5 mgVitamin B12 (Cyanocobalamin)12.50 mcgCalcium (Carbonate, Citrate)50 mgMagnesium (Oxide, Citrate)50 mgSoybean (Glycine max) Extract (Standardized to 2.5 – 3.5% [6.25 – 8.75mg] Aglycone Isoflavone Equivalents (AIE))250 mgBlack Cohosh Extract (Cimicifuga racemosa) (Root) (Standardized to 2.5% [1mg] Triterpene Glycosides)40 mgRed Clover Blossom Extract (Trifolium pratense) (Standardized to 8% [4mg] Aglycone Isoflavone Equivalents (AIE))50 mgDong Quai (Angelica sinensis) (Root)5 mgChasteberry (Vitex agnus-castus) (Fruit)5 mgLicorice (Glycyrrhiza glabra) (Root)5 mgNon-Medicinal Ingredients:Calcium Carbonate, Microcrystalline Cellulose, Croscarmellose Sodium, Silicon Dioxide, Magnesium Stearate and Hypromellose.