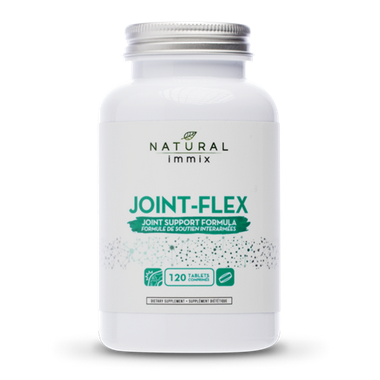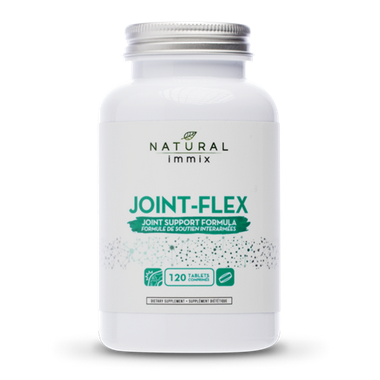 Joint-Flex
is a synergistic joint formula that contains Glucosamine Sulfate,* Chondroitin Sulfate* plus other co-factors to promote the structural framework and maintenance of joint cartilage, healthy joint structure, function, flexibility and mobility. As a factor in the maintenance of healthy cartilage and joint health, it helps to relieve joint pain associated with osteoarthritis (OA) and protects against the deterioration of cartilage. Glucosamine and Chondroitin are not commonly found in foods, and the amounts that need to be ingested in order to see beneficial effects, generally require supplementation.
*(Sulfate should not be confused with the common allergens such as sulfites or sulfa drugs.)
Directions:

Take orally 4-5 tablets per day with meals or as directed by a qualified health care practitioner.Avoid taking at bedtime.

Ingredients:

Vitamin C (Ascorbic Acid)33.3 mgNiacin (Niacinamide)8.3 mgPantothenic Acid (Calcium Pantothenate)8.3 mgManganese (Amino Acid Chelate)3.3 mgGlucosamine Sulfate333.3 mgChondroitin Sulfate (Standardized to 90% [30mg] Chondroitin Sulfate)33.3 mgBoswellia Serrata Extract (Standardized to 40% [13.33mg] Boswellic Acids)33.3 mgMSM (Methysulfonylmethane)33.3 mgTurmeric Extract (Curcuma longa) (Standardized to 95% [15.8mg] Curcumin) (Root)16.6 mgBromelain (Standardized to 1800 GDU's/g)8.3 mgGrape Seed Extract (Vitis vinifera)3.3 mgQuercetin3.3 mgGinger (Zingiber officinale) (Root)16.6 mgL-Proline16.6 mgNon-Medicinal Ingredients:Di-calcium Phosphate, Stearic Acid, Microcrystalline Cellulose, Vegetable Magnesium Stearate and Silicon Dioxide.
Natural, Gluten Free, Sugar Free, Energy Eff, Peanut Free, Tree Nut Free, Peanut Free Product, Tree Nut Free Product, Canadian Brand