Nature's Harmony Omega 3-6-9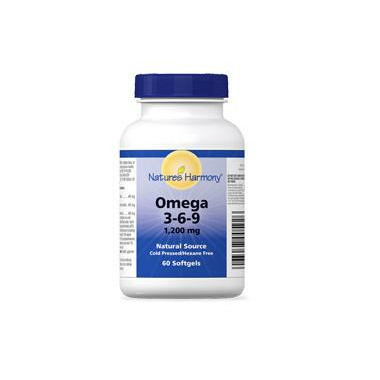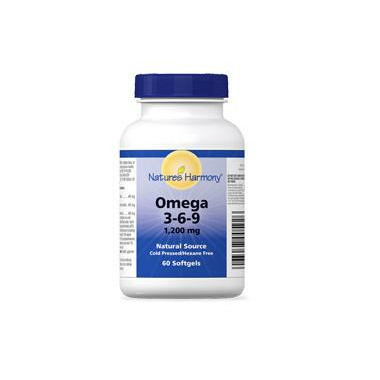 Nature's Harmony Omega 3-6-9
Nature's Harmony Omega 3-6-9 is a rich source of essential fatty acids. This unique formulation combines the oils from cold-water fish, flax seed and borage into one easy-to-take softgel capsule. With the wide-ranging actions of essential fatty acids in the body, Omega 3-6-9 offers significant benefits for a number of health conditions.

The body needs the right balance of essential fatty acids every day in order to function at its best. Often diet alone can provide too much of one essential fatty acid (EFA) and not enough of another. Typical Western diets tend to be much higher in omega-6 fatty acids than omega-3 fatty acids. Nature's Harmony Omega 3-6-9 can help strike the right balance with 400 mg of each type of oil.

Nature's Harmony Omega 3-6-9 is a rich source of the omega-3 fatty acids, eicosapentaenoic acid (EPA) and docosahexaenoic acid (DHA), which are found in the oils of cold-water fish. In addition, it contains borage oil, an excellent source of gamma-linolenic acid (omega-6). The flax seed oil provides alpha-linolenic acid (omega-3), linoleic acid (omega-6) and oleic acid (omega-9).

The oil in Nature's Harmony Omega 3-6-9 is extracted naturally without the use of hexane or other chemical solvents and cold pressed to prevent nutrient loss during processing.


Yolaine:
more than a year ago
Usually, I realy like Natures Harmony. I am sure this omegas 3-6-9 is a great product, but not if you have liver problems. I sometimes have problem with my liver and it makes me feel pain at night. With this product, I had trouble sleeping even though I was taking just one in the morning (they recommend 2 three times a day, so 6 every day). When I stopped taking it, I slept better. I think it could be because of the borage seed oil in it. Borage can affect liver.
Page
1