Nekton Pro-Active Support for the Musculosketal System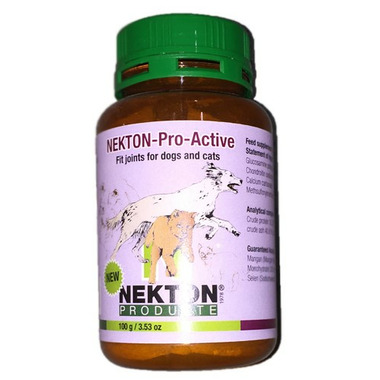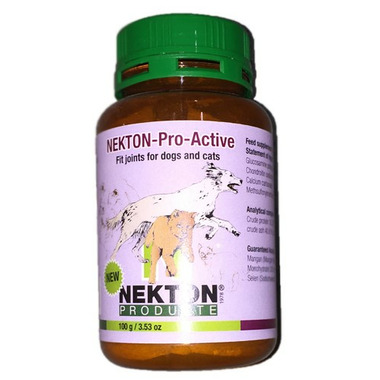 Nekton Pro-Active Support for the Musculosketal System
NEKTON-Pro-Active contains high-quality, natural ingredients, such as glucosamine, chondroitin and the MSM building block. NEKTON-Pro-Active helps to develop structure, position and strength of joint cartilage. A half-dose daily for active animals as a preventative and to stay healthy. Animals that are already ill (e.g. arthrosis) should receive one increased daily dose to improve their condition. All of the animal's joints are protected, supported and mobilized. The full effectiveness of NEKTON-Pro-Active will develop after approximately 14 days of uninterrupted use.

Features:
Helps support health joint cartilage
Great for dogs and cats
Measuring spoon inside bottle
Directions:
Feeding recommendation according to body weight in kg: As a preventative (daily): body weight up to 4 kg 0.5 g of NEKTON-Pro-Active, body weight 4-8 kg 1 g of NEKTON-Pro-Active, body weight 8-24 kg 3 g of NEKTON-Pro-Active, from 24 kg body weight 4 g of NEKTON-Pro-Active. The daily dosage should be doubled for animals that are already ill.

Ingredients:
Glucosamine potasium sulfate (36 %), Chondroitin sodium sulfate (29 %), calcium carbonate, methylsulfonylmethane (MSM) (6 %) Analytical constituents: crude protein 10.3%, crude ash 40.6 %, crude fat 0.5 %, crude fiber 0.3 %. Nutritional additives per kg: 300 mg manganese (manganese oxide), 22 mg selenium (sodium selenite)
Caution:
NEKTON-Pro-Active should be stored dry and out of sunlight, between 15° and 25°C. DO NOT STORE IN THE FRIDGE.