NEOSTRATA
NeoStrata All-in-One Cleansing Milk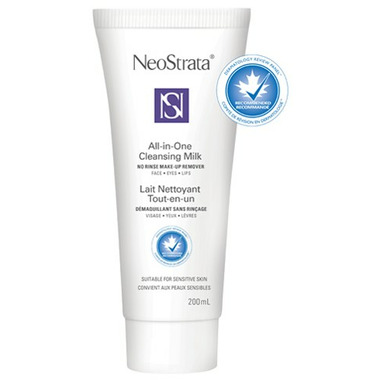 NEOSTRATA
NeoStrata All-in-One Cleansing Milk
Description
NeoStrata All-in-One Cleansing Milk gently cleanses even the most sensitive skin. This formula removes makeup from face, eyes and lips and it hydrates while leaving skin soft and non-greasy.
Features:
Suitable for sensitive skin
Non-comedogenic
Non-irritating
Free of Alcohol, Parabens and Soap
Dermatology Review Panel seal of approval
Directions:
Apply with a cotton pad onto face and eyelids and delicately wipe off. No need to rinse.
Ingredients:
0.25% Celldetox, a plant extract, reinforces the cell detoxification process to improve skin radiance and prepare skin to better receive skin care ingredients. Avocado butter hydrates while providing a comfortable non greasy feel to the skin.
Highlights