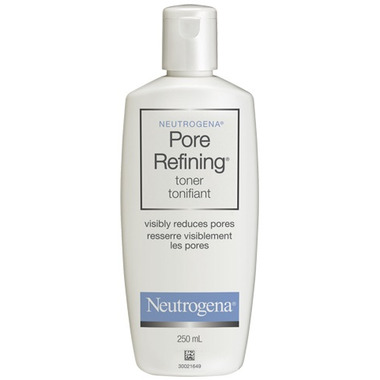 250 mL
Neutrogena Pore Refining Toner
is rated out of
5
by
9
.
---
Description
NEUTROGENA
®
PORE REFINING
®
Toner visibly reduces the appearance of pores and refines skin to look clear, smooth and more even-toned. This effective alpha and beta hydroxy formula delivers visible results. First, it sweeps away dead surface skin and smoothes over rough, uneven patches. Then, it penetrates deep into pores to visibly reduce their appearance for cleaner and flawless-looking skin. Skin is left soft, smooth and refreshed.
Benefits:
Visibly reduces pores and refines skin
Skin is left soft, smooth and refreshed
Shipping & Returns
Rated

5

out of

5
by
MyarMyar
from
Part of my regime for years
I've been purchasing this toner regularly for the last few years. It is one of the only other toners that doesn't burn or dry my skin out, it's a great combo between cleansing/oil-controlling and moisturizing. Now, I can't say I am free of blackheads and my skin is still a bit problematic, but I've tried so many products and this seems to be one of the only products that helps in keeping things in check and reducing flare-ups without stripping or irritating my sensitive combo skin. I think the witch hazel really helps. I normally prefer natural products, but this doesn't seem to have too many chemicals either, at least compared to some products. It's getting hard to find for some reason, but I will keep buying as long as I can keep finding it!
Date published: 2013-03-08
Rated

4

out of

5
by
Anonymous
from
Fairly decent product
Noticed some results however, I have only been using it for a few day. Very gentle on my skin and did not cause me to break out. The consistency is very nice; not too heavy and not too watery. Overall, would purchase again.
Date published: 2013-03-10
Rated

5

out of

5
by
Marianne
from
Been using this for years!
This is one of the few products that agrees with my finicky skin. My skin is sensitive yet combination and I still have adult/cystic acne. Been using it for years and years. I actually use it to clean my skin (pour a bit on a cotton pad/cloth and wipe skin down until clean). It's mild but cleansing and effective enough, and toning, and pleasant mild scent. Hard to find but I'll buy as long as I can find it (even if I'm avoiding plastic packaging... I can't break up with this staple!)
Date published: 2020-12-14
Rated

4

out of

5
by
fallonleclerc
from
First Time trying
I noticed a difference the first time I tried it! Amazing would definitely recommend.
Date published: 2013-03-30
Rated

5

out of

5
by
Rayna
from
I sure glad I finally tried this toner out
I've had my eye on this for probably a decade, I just never got around to purchasing it because there was alwasy something else to catch my eye. Since my favortie toner has been discontinued, I've been on the hunt for a replacement. This particular toner is just the right amount of....everything I look for! It has an ultra light but nice fragrance. It removes left over residue and grime but does NOT dry out the skin—even if used twice a day. And it's affordable.
Date published: 2021-05-27
Rated

1

out of

5
by
Ramisa
from
Going back to my regular alcohol-free toner
At first I liked this toner, it felt refreshing and my pores did look smaller. But after a couple weeks I started noticing a lot of dry scaly patches and my skin just looked... dull. Then the pimples came, one after another. I thought it was hormones at first, I didn't put 2 and 2 together that it was the toner until I checked the reviews and saw a bunch of other people complaining of breakouts too. I'm discontinuing use immediately. Yikes, my face hasn't looked this bad since puberty. I have no idea what's in this that makes me break out so bad, maybe the sodium, maybe all the alcohol just dried my skin out so bad that it formed a 'crust' and trapped all the natural oils underneath, I dunno but it's bad. I have like 8 zits right now and they're leaving red marks too. Going back to my regular alcohol-free toner and Olay, hopefully my skin recovers soon :(
Date published: 2022-11-09
Rated

5

out of

5
by
Kriszti24
from
This product makes my face look refreshed and clean
I have been using the NEUTROGENA® PORE REFINING® Toner for about 1 year now and I really think it has made a difference in my skins appearance. Since I have been using it I noticed early on that my pores are noticably minimized and it makes my skin look healthy and fresh.
Date published: 2013-03-20
Rated

5

out of

5
by
John
from
awesome!
use i everda. amazing produc. highl reccommend. will purchase again!
Date published: 2014-08-05