Nonna Pia's Garlic Balsamic Glaze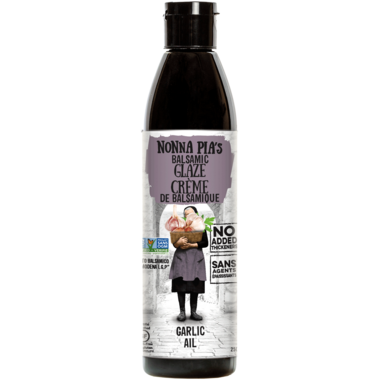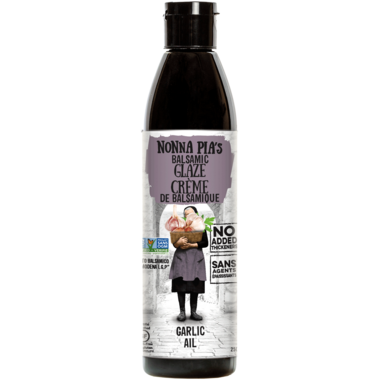 Nonna Pia's Garlic Balsamic Glaze
Balsamic glazes are made to emulate aged balsamic vinegar. As balsamic vinegar ages, it becomes thicker, sweeter and more robust in flavour, it is also more expensive. This beautiful balsamic glaze emulates those exact characteristics without the added cost of aged balsamic.
One of the Nonna Pia most versatile flavour profiles, you will find limitless uses for the Garlic glaze. Robust balsamic flavour with a hit of garlic you will want to add this to just about everything!
Features:
Gluten Free
No thickening Agents
Small Batch & Hand Crafted
2 year shelf life (even after opening)
Made with 100% Baslamic Vinegar from Modena Italy
Non GMO Cane Sugar
Natural
Vegan
USE:
SALAD VINAIGRETTE: with oil or on its own for LOW FAT option
MARINADE: Red meats, Duck, Game, Pork, Chicken or Tofu
DIP: Fresh Breads, Pizza, Meats OR Fruit.
SOUP & SAUCES: add a splash at the end of cooking to bring flavours together
BRAISING: add a splash at the end of Braising/ Frying OR Grilling, gives whole dish a deep, rich, slightly sweet flavor
GARNISH: Decorate a plate or sprinkle on canapes
Ingredients:
Balsamic Vinegar Of Modena Italy, Granulated Cane Sugar
Fresh Garlic.