NOW Foods Energy Veg Capsules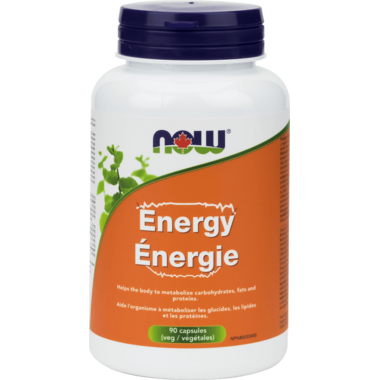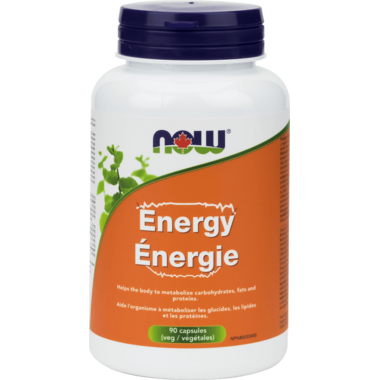 NOW Foods Energy Veg Capsules

NOW Foods Energy Veg Capsules combines a comprehensive array of nutrients and dietary ingredients to help your body generate energy. This product has been formulated with ingredients such as B Vitamins, Green Tea, Panax Ginseng, and Rhodiola to support energy production and adrenal function. Caffeine is present (32 mg) in this product as a naturally occurring constituent of herbal ingredients such as Guarana, and Green Tea. By comparison, a regular cup of 8 oz. coffee may contain 80 to 100 mg of caffeine.
Features:
Helps the body to metabolize carbohydrates, fats and proteins
Helps in energy metabolism and tissue formation
Ephedra-free
Combines Vitamins, Minerals, Aminos, and Herbals
Contains natural caffiene sources
Vegetarian/Vegan
Egg free
Directions:
Adult Dosage: Take 1 capsule daily. Not to be taken immediately before bedtime. For occasional use only.
Ingredients:
Each capsule contains:
Vitamin E (as d-alpha-Tocopheryl Succinate) 3.1 mg ATE (7.5 IU)
Vitamin B1 (from Thiamine Hydrochloride) 4 mg
Riboflavin (Vitamin B2) 5 mg
Niacin (Vitamin B3) 12.5 mg
Vitamin B6 (from Pyridoxine Hydrochloride) 5 mg
Vitamin B12 (as Cyanocobalamin) 50 mcg
Vitamin B5 (from Calcium d-Pantothenate) 5 mg
Iodine (Kelp) (Laminaria digitata)75 mcg
Chromium (as Chromium Chelavite®) 100 mcg
Potassium (from Potassium Aspartate) 27.5 mg
Guarana Extract (Paullinia cupana) (Seed)100 mg (Standardized to contain 22 mg of Caffeine)
Green Tea Extract (Camellia sinensis) (Leaf) 100 mg (Standardized to contain 40% Catechins, 8 mg Caffeine)
Panax Ginseng (Root) 75 mg
Eleuthero (Eleutherococcus senticosus)(Root) 75 mg
Rhodiola Extract (Rhodiola rosea)(Root) 50 mg (Standardized to contain 3% Rosavins)
Licorice (Glycrrhiza glabra)(Root) 50 mg
Gotu Kola (Centella asiatica) (Whole Plant) 50 mg
Yerba Mate (Ilex paraguariensis) (Leaf) 25 mg (Caffeine from Yerba Mate 2 mg)
Cayenne (Capsicum annuum) (40,000 SHU) (Fruit) 25 mg
Alpha-Lipoic Acid 7.5 mg
Coenzymne Q10 (CoQ10) 5 mg
Non-Medicinal Ingredients:
Veg Capsule (hypromellose, water), Magnesium Stearate (vegetable source).
Caution:
Keep out of the reach of children. If overdose or accidental ingestion occurs, call a Poison Control Center immediately. If you have stomach ulcers or inflammation, consult a health care practitioner prior to use. Do not use if you are pregnant or breastfeeding. Consult a health care practitioner prior to use if you are taking lithium, antidepressant medications, blood thinners, or blood pressure medication, or digoxin, or if you have high blood pressure, diabetes, glaucoma, detrusor instability (overactive bladder syndrome), iron deficiency, liver disorder, or develop symptoms of liver trouble (such as abdominal pain, dark urine or jaundice). Consult a health care practitioner if symptoms persist or worsen, or if you have any type of acute infection, stomach ulcer, or inflammation, or if you are taking hormone replacement therapy (HRT) or birth control pills. Consumption with natural health products, other caffeine-containing products (e.g. medications, coffee, tea, colas, cocoa, guarana, mate) (e.g. bitter orange extract, synephrine, octopamine, ephedra), or other drugs (e.g. ephedrine) which increase blood pressure is not recommended. Thisproduct is not intended as a substitute for sleep. Do not use if you are taking thiazide diuretics, cardiac glycosides, corticosteroids, stimulant laxatives, or other medications which may aggravate electrolyte imbalance, or if you have hypokalemia, high blood pressure, kidney or cardiovascular disorder, bipolar disorder, or bipolar spectrum disorder. If you experience hypersensitivity/allergy, insomnia, anxiety, irritability, sweating, paleness, chills, headache, dizziness, and/or confusion, discontinue use and consult a healthcare practitioner. People sensitive to nicotinic acid may experience flushing of the skin that is generally mild and transient.