NOW Foods
NOW Foods Glucosamine & Chondroitin Plus MSM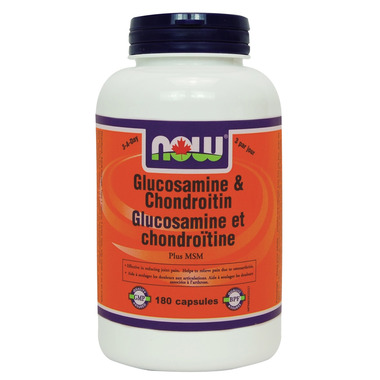 NOW Foods
NOW Foods Glucosamine & Chondroitin Plus MSM
Description
Strong bones and joints become a further and further goal as food becomes more nutritionally deficient, and lifestyles become more sedentary. Keep your skeletal system working at its best no matter your lifestyle. NOW
®
Glucosamine & Chondroitin with MSM combines three of the best known nutrients available for the support of healthy joints in one dietary supplement. Scientific studies have demonstrated that Glucosamine and Chondroitin can promote normal joint mobility and comfort. MSM (Methylsulphonylmethane) is present as a naturally occurring sulfur compound for optimal nutritional support for the production of healthy joint structures.
Features:
Effective in reducing joint pain and strengthening joints

Helps to relieve pain due to osteoarthritis
3 pills per day format
Suggested Usage: As a dietary supplement, take 3 capsules daily with meals or on an empty stomach.


Other Ingredients:
Gelatin (capsule) and Magnesium Stearate.
Warning:
Persons with a known allergy to shellfish should not use this product.
Highlights

Shipping & Returns