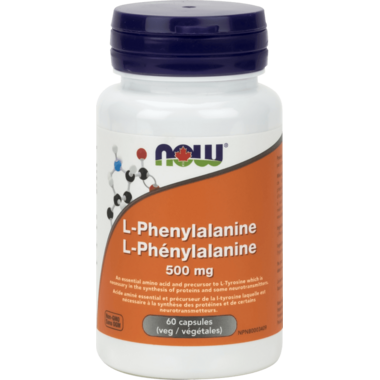 Description
For both body and mind, this supplement provides the nutrients to be feeling at your best. L-Phenylalanine is an essential amino acid that is necessary for the synthesis of proteins. Because L-Phenylalanine can be readily converted into the amino acid tyrosine, which forms part of the structure of the neurotransmittters dopamine and norepinephrine, it is important for the maintenance of a healthy nervous system.
Features:
An essential amino acid and precursor to L-Tyrosine which is necessary in the synthesis of proteins and some neurotransmitters
Nervous System Support
Free form
Vegetarian / Vegan
Each capsule contains
: L-Phenylalanine 500 mg
Non-Medicinal Ingredients: Veg Capsule (hypromellose, water)
WARNING: Do not use this product if you have depression, Parkinson's disease, Phenylketonuria or Schizophrenia unless under the supervision of a health care practitioner. Do not use if you have hypertension, are taking a Monoamine Oxidase Inhibitor (MAOI) drug, are pregnant or breastfeeding.
Highlights

Shipping & Returns