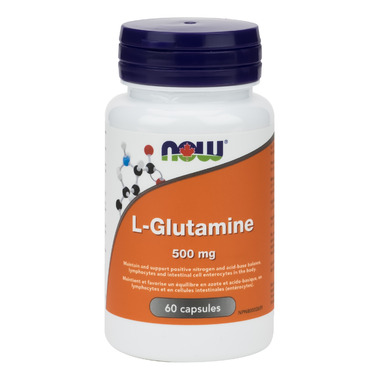 Description
NOW Foods L-Glutamine is involved in maintaining a positive nitrogen balance (an anabolic state) and acts as the primary fuel for rapidly growing cells (immune system and intestinal cells). Glutamine recently been the focus of much scientific interest. A growing body of evidence suggests that under certain circumstances, the body may require more Glutamine than it can produce. During these times Glutamine may be considered a "conditionally essential" amino acid. In addition, Glutamine is also a major nitrogen transporter and helps to regulate the body's acid-base balance.
Features:
Maintains and supports positive nitrogen and acid-base balance
Supports lymphocytes and intestinal cell enterocytes in the body
The highest grade L-form amino acid available
Directions:
Adult Dosage: Take 1 capsule 3 times daily between meals. Do not use beyond 1 month.
Ingredients:
Each capsule contains:
L-Glutamine (Free form) 500 mg
Non-Medicinal Ingredients:
Capsule (gelatin, water), Rice Flour, Magnesium Stearate (vegetable source).
Caution:
Do not use beyond 1 month. Consult a health care practitioner prior to use if you are being treated for hepatic encephalopathy, mania/hypomania, seizure disorders, or are sensitive to Monosodium Glutamate. Do not use if you are pregnant or breastfeeding. May cause mania in people with bipolar disorder.
Highlights

Shipping & Returns