NOW Solutions Berry Full Conditioner
Volume Boost for Fine Hair
473 mL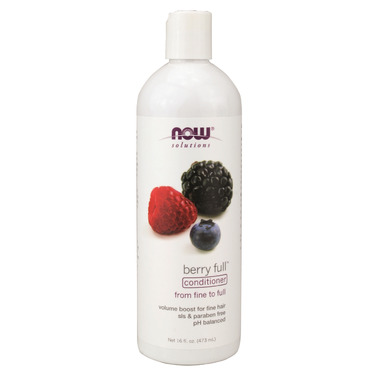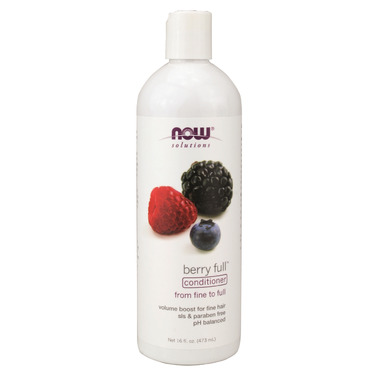 NOW Solutions Berry Full Conditioner
Volume Boost for Fine Hair
473 mL
NOW Natural Berry Full Conditioner has a light texture that's perfect for fine hair, and was specially formulated with an array of nutrients and botanical extracts that increase body and fullness. NOW has united Biotin, Panthenol, Rosemary, and Algae Extract--four of the most trusted hair regeneration compounds available today.

What do fine hair, flat hair and thin hair all have in common? They all lack volume! To make matters worse, many of the most popular volumizing shampoos and conditioners are heavy and loaded with chemicals that can actually make fine hair look thinner. NOW Natural Berry Full Shampoo and Conditioner work differently. This product contains vitamins, minerals, and essential extracts that boost volume and body, leaving hair looking healthier and fuller than ever!

Fine hair might be hereditary, but that doesn't mean you can't do something about it!

Features:
Volumizing
pH Balanced
Paraben-free
SLS-free

Ingredients: De-ionized Water, Aloe Barbadensis (Aloe Vera) Leaf Gel*, Vegetable Glycerine, Glyceryl Stearate, Cetearyl Alcohol, Glucose/Glucose Oxidase/Lactoperoxidase (natural preservative), Virgin Coconut Oil*, Behentrimonium Chloride, Wheat Germ Oil, Natural Berry Essence, Hydrolyzed Wheat Protein, Hydroxyethyl Cellulose, Herbal Extract Blend (extracts of Licorice, Calendula, Nettle, Horsetail (scouring rush), Chamomile, Lavender and Sage), Vitamin E (as mixed tocopherol), d-Panthenol, Unmodified Soy Lecithin, Phytantriol, Algae Extract, Vitamin E (as d-alpha tocopheryl acetate), Vitamin D2 (as ergocalciferol), Biotin, Niacin (as niacinamide), Vitamin A (as retinyl palmitate) and Vitamin C (as sodium ascrobyl phosphate). *Certified Organic ingredients.