Now Sports Plant Protein Complex Creamy Vanilla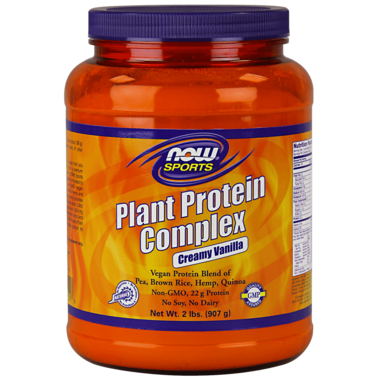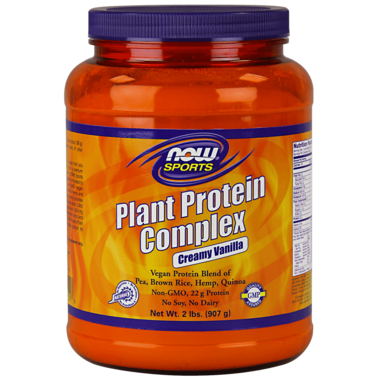 Now Sports Plant Protein Complex Creamy Vanilla
Now Sports Plant Protein Complex Creamy Vanilla is specifically formulated to address your needs with a non-GMO vegan protein blend from Pea, Brown Rice, Hemp and Quinoa sources. If you're an active vegetarian or vegan then you know how difficult it can be to find a premium quality vegetarian protein powder. Each 1 scoop serving provides 22 grams of protein, and typically has about 3,900 mg of branched chain amino acids and 1,800 mg of L-Arginine. Sweetened with Xylitol and BetterStevia® Stevia Extract, NOW Sports Plant Protein Complex is the ideal protein product for your active vegetarian lifestyle.
Features:
Vegan Protein Blend of Pea, Brown Rice, Hemp, Quinoa
Non-GMO
22 g Protein
No Soy, No Dairy
Natural - No Aspartame, No Sucralose, No Acesulfame-K
Serving Scoop Included
Directions:
Add 1 level scoop (38 g) daily to 10 oz. of cold water, juice, or your favourite beverage, and blend.
Ingredients:
Non-GMO Plant Protein Blend (Yellow Pea Protein Isolate, Sprouted Brown Rice Protein Concentrate, Hemp Protein, Quinoa Protein), Natural flavours, Xylitol, BetterStevia® (Organic Stevia Extract), Xanthan Gum and Purified Stevia Extract.
Typical Amino Acid Amounts per Serving:
L-Histidine* 0.5 g
L-Isoleucine* 1.0 g
L-Leucine* 1.8 g
L-Lysine* 1.6 g
L-Methionine* 0.2 g
L-Phenylalanine* 1.2 g
L-Threonine* 0.9 g
L-Tryptophan* 0.2 g
L-Valine* 1.1 g
L-Alanine 0.9 g
L-Arginine 1.9 g
L-Aspartic Acid 2.6 g
L-Cysteine 0.3 g
L-Glutamic Acid 3.9 g
L-Glycine 0.9 g
L-Proline 0.9 g
L-Serine 1.1 g
L-Tyrosine 0.8 g
Total 21.8 g
*Essential Amino Acids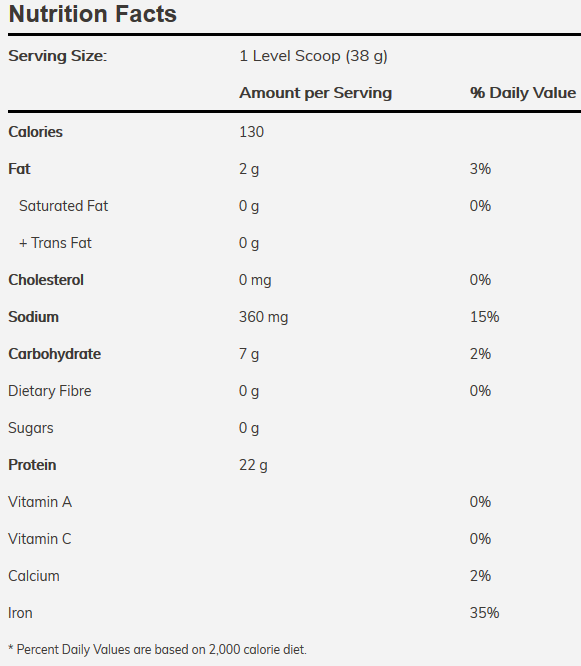 Caution:
Contains Xylitol, do not feed to pets.