NUK
NUK 3 sided Fingerbrush Set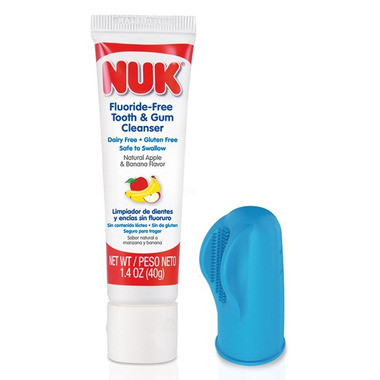 NUK
NUK 3 sided Fingerbrush Set
Description
Pediatric dentists recommend cleaning your baby's teeth and gums everyday. NUK 3 sided Fingerbrush Set can help get your baby started on a lifetime of good oral habits.
Features:
Baby-soft finger brush fits an adult finger snugly and feels gentle on baby's tender gums
Contains no fluoride - safe to swallow
Natural apple and banana flavour
Safe for Children three months and older
Care:
Wash finger brush before first use with hot water and mild detergent, then rinse clean. Rinse thoroughly after each use allowing to dry before storage. Do not put in dishwasher.

Use:
Wash hands. Place finger brush as far down as possible on index finger. Make sure finger brush fits snugly once in place. Squeeze a small amount of cleanser onto bristles of finger brush. Use a small circular brushing motion, gently massage teeth and gums to help remove food and plaque. For best results, use in morning and at bedtime.

Ingredients:
Glycerin, Aqua / Water / Eau, xylitol, Sorbitol, Propylene Glycol, Pectin, Xanthan Gum, Silica, Aroma (Flavour), Sorbic Acid, Calcium Lactate.