Nuworld Botanicals The Blending Bar Cold-Pressed Whipped Green Tea Balm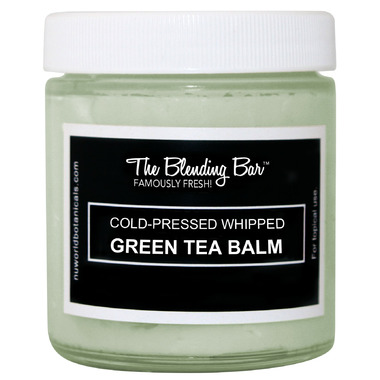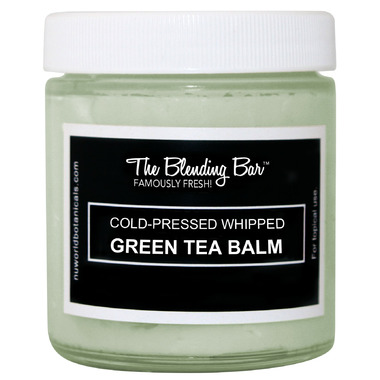 Nuworld Botanicals The Blending Bar Cold-Pressed Whipped Green Tea Balm
The Blending Bar Green Tea Balm is a luxurious and versatile balm that can be used as a body balm, massage balm, anti-aging eye balm, cuticle balm and more! Extremely rich in natural oils, proteins, antioxidants and fatty acids, it leaves a smooth, satiny finish on the skin. Ideal for those with very dry and sensitive skin.
Skin-Nourishing Benefits:
Green tea extract is a rich source of anti-oxidants including Vitamin C and E; helps repair the effects of aging and environmental factors
Fractionated Coconut oil is an excellent moisturizer and skin softener, rich in vitamins A, C and E
Cold-pressed organic Cupuacu butter reduces skin degeneration and assists in skin flexibility, smoothness and softness; promotes long lasting hydration
Organic Shea butter is known for its moisturizing and emollient properties, rich in vitamins and fatty acids, it penetrates deeply into the epidermis
Multi-uses:
Use as an all-over body balm, massage balm, anti-aging eye balm treatment, lip balm, after-sun balm, foot balm, cuticle balm and more. Makes a wonderful addition to any DIY natural skincare and bodycare product.
Ingredients:
Shea (Butyrospermum parkil) butter, Cupuacu (Theobroma grandiflorum) butter, Coconut fractionated (Caprylic triglyceride) oil, Green Tea (Camelia sinensis) extract, Tocopherol
For external use only.

Natural, Organic, Vegan, Fair Trade, Canadian Brand





Jennifer Y.:
about a year ago
This is my first Nuworld Botanicals purchase and I am so pleased with it. The green tea scent is subtle, but the balm itself is amazing. It feels so good, I use it as an under eye night cream, a lip balm, and on my very dry hands and feet. It's really wonderful, and it's Canadian too. This product is a win for me.
Danielle:
about a year ago
This is a wonderful balm. I love the very light green tea scent and I am using it as suggested - everywhere. It is my night eye cream, cuticle moisturizer, hand cream, lip balm, etc. I'm basically covering myself head to toe after a bath or shower. The only cons are it's too rich as a daily face cream for me (combination skin) and it is definitely a cold weather balm, not a year round product.
Page
1