Nylabone Advanced Oral Care Puppy Dental Kit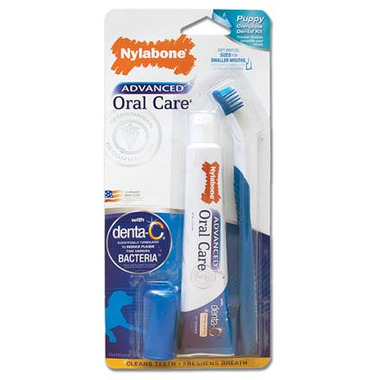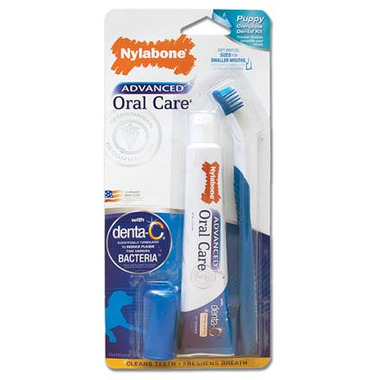 Nylabone Advanced Oral Care Puppy Dental Kit
Keep your puppy's mouth clean, fresh and healthy with this complete dental health kit. ​This triple-action dental kit is designed to clean teeth in one easy motion; designed for both larger and smaller mouths. With Denta-C that's formulated to reduce plaque that harbors bacteria.
Preventative dental care reduces the risk of developing oral disease, which can lead to serious issues for dogs. Establishing a daily routine of proper dental care may extend the life of your pet.


Directions For Use:
Toothbrush:
Begin by letting your dog taste a small amount of Nylabone Dental Toothpaste. Using your finger, gently rub teeth and gums in a circular motion.
Then introduce the toothbrush with a small amount of toothpaste.
Allow your dog to taste, then gently start brushing with a back & forth motion (no rinsing is necessary).
Finger Brush:
Place Nylabone Finger Brush over index finger (if necessary, place in warm water to expand).
Put a dab of Nylabone Pet Dental Toothpaste on bristles and slide finger inside pet's cheek.
Using small circular motion, massage teeth and gum line. No rinsing necessary.
Wash Finger Brush thoroughly when finished.
Ingredients:
Toothpaste: Sorbitol, Water, Silica, Glycerin, Cellulose Gum, Sodium Ascorbyl Phosphate, Sodium Copper Chlorophyllin, Sodium Hexametaphosphate, Tetrasodium Pyrophosphate, Flavor, Titanium Dioxide, Potassium Sorbate, Sodium Benzoate, and Magnesium Aluminum Silicate; Toothbrush: Nylon and Rubber.

Remember to praise and reward with a treat after every successful brushing!