Nylabone Advanced Oral Care Tartar Control Senior Dog Toothpaste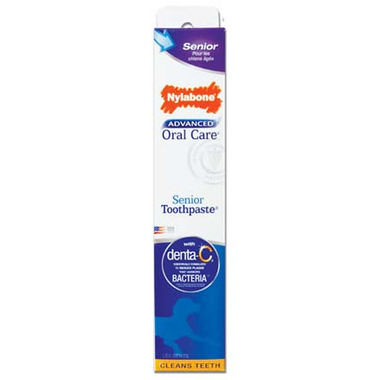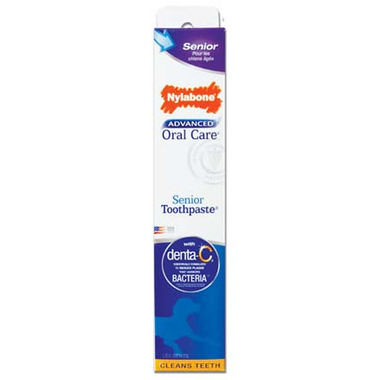 Nylabone Advanced Oral Care Tartar Control Senior Dog Toothpaste
Uniquely formulated for seniors with sensitive teeth and gums; includes calcium and helps to clean teeth, freshen breath and help remove plaque and tartar.
Preventative dental care reduces the risk of developing oral disease, which can lead to serious issues for dogs. Establishing a daily routine of proper dental care may extend the life of your pet.

Directions:
Begin by letting your dog taste a small amount of Nylabone Dental Toothpaste. Using your finger, gently rub teeth and gums in a circular motion.
Then introduce the toothbrush with a small amount of toothpaste.
Allow your dog to taste, then gently start brushing with a back & forth motion (no rinsing is necessary).
Ingredients
: Dicalcium Phosphate Dihydrate ,Glycerin, Water, Sorbitol, Calcium Carbonate, Sodium Ascorbyl Phosphate, Sodium Copper Chlorophyllin, Sodium Hexametaphosphate, Folic Acid, Chondrus Crispus (Carrageenan) , Glucose, Hydroxyethylcellulose, Sodium Coco-Sulfate, Trisodium EDTA, Potassium Sorbate, Sodium Benzoate, and Flavour.
Remember to praise and reward with a treat after every successful brushing!