OGX
OGX Renewing Argan Oil of Morocco Shampoo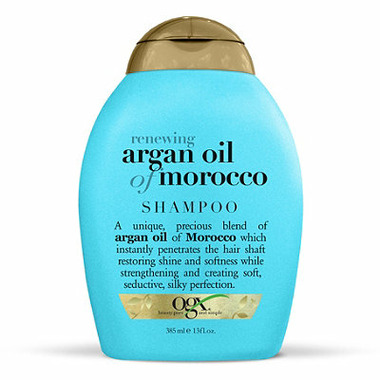 OGX
OGX Renewing Argan Oil of Morocco Shampoo
385 mL
OGX Renewing Argan Oil of Morocco Shampoo
is rated out of
5
by
84
.
---
Description
OGX Argan Oil of Morocco Shampoo lets you indulge the senses with this precious blend of Moroccan argan oil which instantly penetrates the hair shaft restoring shine and softness while strengthening. This renewing formula is free of sulfates and parabens, and is safe for color-treated hair.

OGX Renewing Argan Oil of Morocco Shampoo will restore moisture to dry hair, protect from styling heat and UV damage while creating soft, seductive, silky perfection.


Rated

5

out of

5
by
msabrenicaa
from
Recieved this and the conditioner free from my voxbox to test out. It smells amazing and great for my dry hair. I was nervous at first because my hair is colored. BUT not only made my hair smoother its safe for ny color treated hair. Right out of the first use My hair wasnt tangled and it was easier to comb through..,, love it so far!!!
Date published: 2020-09-07
Rated

5

out of

5
by
emiliem23
from
I love this shampoo!! This is definitely a must have if you find that your hair is dry, as it leaves your hair feeling soft and moisturized after applied. I also find that I dont need to use conditioner due to this reason! It also leaves your hair smelling AMAZING.
Date published: 2020-09-06
Rated

1

out of

5
by
Anonymous
from
This shampoo made my fine, damaged hair extremely unmanageable even when paired with the matching conditioner or a hair mask! The scent of the shampoo is not on par with the conditioner (whose scent I love). This shampoo has a nice lather and feels like it is cleaning away any left over hair products but, it made my hair beyond flat even with mousse and blow drying upside down. Not impressed at all.
Date published: 2020-07-05
Rated

3

out of

5
by
midawastaken
from
Whenever I use this and the conditioner, no matter how much I use, and how much I scrub it just doesn't feel clean. It makes my hair get oily a lot fast the next day. I wouldn't say it even helps my frizzy too. I just mainly use the rest as an off day shampoo. Usually the day after I use this I do a hair mask and use a different shampoo to get everything out of my hair.
Date published: 2020-08-13
Rated

4

out of

5
by
rachelw282
from
I love monochrome shampoo
I love monochrome shampoo as the smell is so good. I live in the city which only has the water super hard and I need to use conditioner to soften my hair after washing my hair. If I use this brand, my hair is soft, I don't need to use conditioner.i have long hair so I will need to use a lot of shampoo and the price is not really cheap if you use it every day.
Date published: 2022-05-23
Rated

3

out of

5
by
afterglowstudio
from
I recieved this product in my VoxBox. I found that since I have oily hair at my roots it didn't work well for me. I found myself needing to wash my hair more frequently than I was with my previous shampoo as my hair looked greasy and felt very oily after a day or two. However since I have a balayage my ends are dry and this kept my ends looking good!
Date published: 2020-09-25
Rated

5

out of

5
by
preetis10
from
Love love love!!! I
Love love love!!! I have tried so many shampoos for my dried hair due to too much heat styling. This not only moisturizerized my hair but I also was told by so many people how my hair has grown longer and looks healthier. I follow up with the argan oil conditioner. I will keep on using this shampoo until I find something to top it lol
Date published: 2021-01-07
Rated

5

out of

5
by
Anonymous
from
Absolutely loved this shampoo! My hair was starting to become dry, rough and my ends were becoming dead from using heat. I started to use this product and it did absolute wonders. My hair was so healthy, fresh, clean and smelt amazing after 2-3 uses. It works well with any kind of hair and even a small amount will do just fine!
Date published: 2020-09-01