Organika
Organika Li'l Kids Zinc Spray with Vitamin C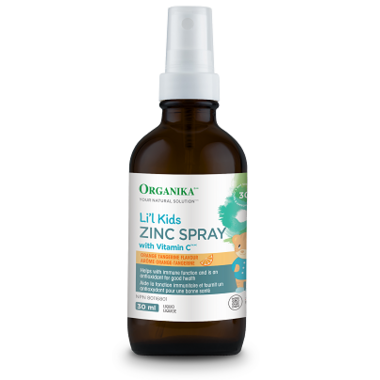 Organika
Organika Li'l Kids Zinc Spray with Vitamin C
Description
During childhood, zinc and vitamin C are essential for building healthy bones, teeth, cartilage, gums, and more, so it's important to meet the recommended intake. However, you may face the challenge of a picky child or a child with food allergies. Worry not, this easy to use spray by Organika eliminates the hassle of trying to get your kids to eat all their fruits and vegetables.

Recommended Dosage: (Children 1 – 3 years) Take 1 serving (5 sprays) 1 time per day.

Zinc supplementation can cause a copper deficiency. If you are unsure whether you are taking enough copper, consult a health care practitioner prior to use.
Highlights

Features
Helps with immune function
Antioxidant for good health
Supports in the development and maintenance of bones, cartilage, teeth, gums, and connective tissue formation
Helps to maintain the body's ability to metabolize nutrients
No-fuss easy spray format
Ingredients
Medicinal Ingredients: Per Serving (5 SPRAYS = 1 ml): Zinc (Zinc Gluconate) 5 mg , Vitamin C (Ascorbic Acid) 45 mg Non-Medicinal Ingredients: Monk Fruit Extract, Natural Orange Flavour, Stevia Leaf Extract, Potassium Sorbate, Tangerine Flavour, Glycerin, Purified Water.
Shipping & Returns