Oxy
OXY Deep Pore Cleansing Acne Pads with Salicylic Acid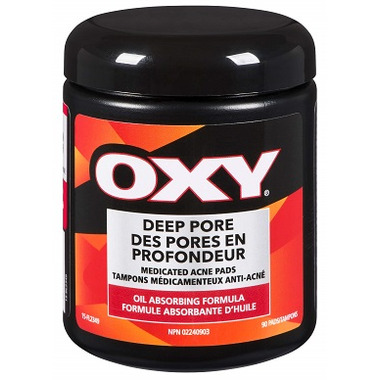 Oxy
OXY Deep Pore Cleansing Acne Pads with Salicylic Acid
Description
OXY Deep Pore Cleansing Acne Pads are clinically proven to continuously fight acne all day. Our Deep Pore formula is great for stubborn acne, blackheads, and visible pores. Instantly removing dirt, oil and dead skin and keeping bacteria away to let Oxygen through helps your skin breathe, while oil-free moisturizers soothe skin to help prevent over-drying. OXY Deep Pore pads also contain salicylic acid, an effective, medicated treatment that penetrates the skin and hair follicles even after applying, leaving a fresh, healthy looking complexion. Paraben and preservative free, like all our cleansing pads.
Directions:
Use OXY pads for both the treatment and prevention of acne and are great at removing excess oil in and around the cheeks and forehead. Start by washing your face with OXY Deep Pore Facial Cleanser and then follow up with a medicated pad, making sure to cover all problem areas. Continue to use medicated acne pads daily over problem areas to maintain clear skin. If you are experiencing excessive bumps and/or redness, next follow up with Acne Vanishing Treatment for on the spot results.
Features
Deep Pore Cleansing Acne Pads are best for those with frequent, reoccurring breakouts, visible pore and blackheads.
Instantly removes dirt, oil and dead skin.
Containing Salicylic Acid, a Dermatologist recommended ingredient that reduces acne by exfoliating the skin and clearing the pores.

Ingredients
Active Ingredient: 2% Salicylic Acid Inactive Ingredient: Fragrance, Isoceteth-20, PEG-8/SMDI Copolymer, Purified Water, SD Alcohol 40B, Triethanolamine, Trisodium EDTA