Pai Skincare Anywhere Essentials Perfect Balance Travel Kit
Take Your Trusted Sensitive Skin Staples On-The-Go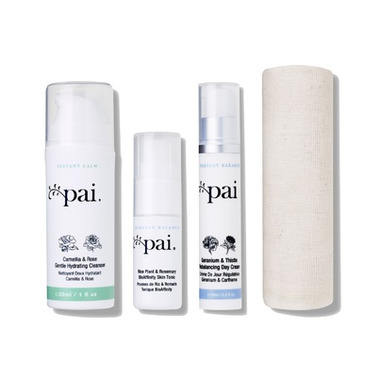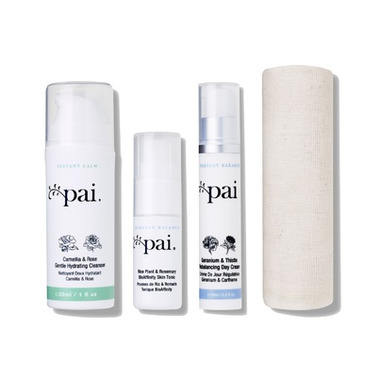 Pai Skincare Anywhere Essentials Perfect Balance Travel Kit
Take Your Trusted Sensitive Skin Staples On-The-Go
Perfect for travel or trialling!

If you have difficult skin, travelling can be a real challenge - and using any old miniatures can throw your skin off balance. Take your trusted skin staples with you, with Pai's home-away-from-home Anywhere Essentials Collection - perfectly sized and packaged for the gym, a weekend away or far-flung travels.

Every Anywhere Essentials Kit contains the bestselling Camellia & Rose Gentle Hydrating Cleanser to melt away makeup and impurities, while nourishing skin with Omega 3 and Vitamins A, B & E. Daily essentials formulated to gently clear and rebalance combination, oily or blemish-prone skin. Together, the vitamin and mineral rich Rice Plant & Rosemary BioAffinity Tonic and Rebalancing Day Cream improve the appearance of large pores, purify congested skin and leave behind a smooth matte complexion.
Travel Kit containing Travel Size Skin Care Essentials (1 week supply).
Ideal For: All Skin Types
Directions:
STEP 1: CLEAN Dampen the Organic Muslin Cloth with warm water and squeeze out excess. For eyes: Apply a small amount of Cleanser to dry, closed eye, massaging gently. Using a cotton pad, sweep over eye to clean and lift away all traces of make-up and Cleanser. For face: Gently massage Cleanser onto dry skin. Remove using the Muslin Cloth, with gentle circular movements. Finish with a splash of cool water.

STEP 2: TONE Spritz over skin after cleansing and allow the nutrients to absorb fully. You can also spritz over skin throughout the day, under or over make-up.

STEP 3: MOISTURIZE Massage 1-2 pumps of Cream into clean, dry skin until fully absorbed.
Ingredients: See Camellia & Rose Cleaser, Geranium & Thistle Rebalancing Day Cream and Rosemary & Rice Plant BioAffinity Tonic for ingredients.
Natural, Organic, Vegan-Friendly, Cruelty-free