Pai Skincare Gentle Genius Camellia & Bergamot Body Wash
Rich in Plant Squalene to Help Lock Moisture into Dry Skin
200 ml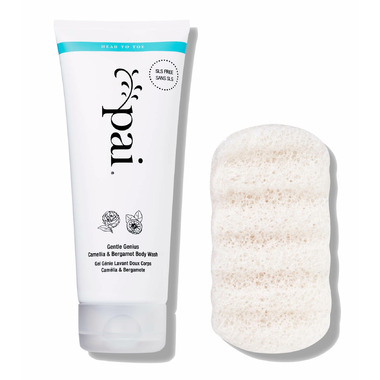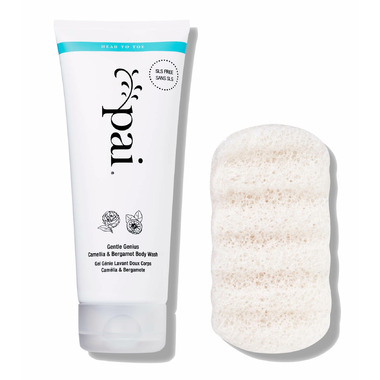 Pai Skincare Gentle Genius Camellia & Bergamot Body Wash
Rich in Plant Squalene to Help Lock Moisture into Dry Skin
200 ml
Pai's new Gentle Genius Body Wash delivers a shower experience that respects very sensitive skin. They have carefully formulated this Body Wash with nourishing organic ingredients that keep skin feeling hydrated and calm - not tight or irritated. Deeply conditioning Camellia Oil is rich in plant squalene to help lock moisture into dry and distressed skin. It gives Pai's Gentle Genius Body Wash a comforting texture, without the greasy feeling that can accompany some emollient body washes. And, because we all need a bit of help in the mornings, they also include a touch of mood-boosting Bergamot Oil.
Rich in Plant Squalene to Help Lock Moisture into Dry Skin
Using a combination of gentle natural cleansing agents and a super soft, 100% natural Konjac Sponge, this creamy Body Wash creates a generous foam without sulphates.
Ideal For: All Skin Types, Sensitive, Dry & Dehydrated

Directions: Use Sponge to massage a small amount of Wash into the skin, creating a generous foam. Soften your Sponge before use. Rinse and allow to dry after use. With a little care, your Sponge should last for up to 3 months. When your Sponge is looking past its best, compost or dispose of as food waste.
Ingredients: Aqua - Purified Water Decyl Glucoside - Naturally Derived Surfactant Glycerin - Vegetable Glycerin Polyglyceryl-4 Oleyl Ether Olivate - Naturally Derived Emulsifier Lactobacillus - Skin Conditioner Coco-Glucoside - Naturally Derived Surfactant Glyceryl Oleate - Naturally Derived Emollient Camellia Oleifera Seed Oil* - Camellia Oil Olive Oil Polyglyceryl-3 Esters - Naturally Derived Surfactant Ricinus Communis Seed Oil* - Castor Oil Mangifera Indica Fruit Extract - Mango Extract Cocos Nucifera (Coconut) Fruit Extract - Skin Conditioner Acacia Senegal Gum - Gum Arabic Schizandra Sphenanthera Fruit Extract - Magnolia Berry extract Chondrus Crispus Powder - Carrageenan Xanthan Gum - Xanthan Gum Lecithin - Naturally Derived Emulsifier Tocopherol - Natural Vitamin E Sodium Levulinate - Naturally Derived Preservative Lactic Acid - pH Regulator Potassium Sorbate - Potassium Sorbate Citric Acid - pH Regulator Sodium Anisate - Naturally Derived Preservative Citrus Aurantifolia Oil* - Lime Oil Citrus Aurantium Bergamia (Bergamot) Fruit Oil - Bergamot Oil Hydrogenated Palm Glycerides Citrate - Naturally Derived Emulsifier Ascorbyl Palmitate - Antioxidant Naturally Occurring in Essential Oils: Limonene, Linalool. Suitable for Vegans. Not tested on animals. Contains nut oil. 99.7% Natural Origin Of Total *From Organic Agriculture

Pai's commitment to product purity means they never use artificial fragrances, alcohol (denat.), parabens (including japanese honeysuckle), phenoxyethanol, propylene glycol, formaldehyde (including sodium hydroxymethylglycinate), sodium lauryl sulfate or other skin irritants. Konjac Sponge contains 100% natural vegetable fibres with no added preservatives or color.
Natural, Organic, Vegan-Friendly, Cruelty-free